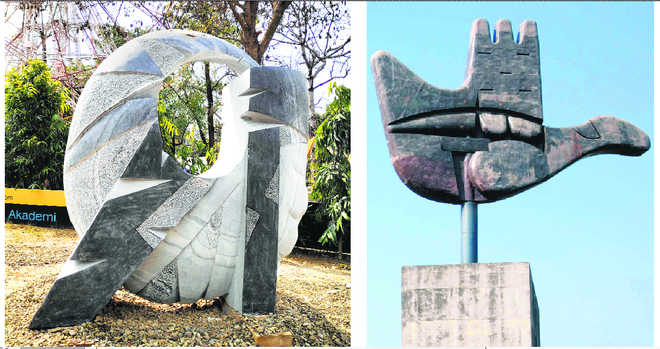 ROBINSINGH@TRIBUNE.COM
Mona
City Beautiful remains an architect's delight, courtesy its unique stature. And if it's first public art policy is cleared by the Chandigarh Heritage Conservation Committee, the city will sure become an art lover's delight too!
Many cities across the world can boast of their brilliant public art, Chicago being a case in point. The credit for our city's distinctiveness lies with Le Corbusier - straight lines, tree-lined wide roads, marked structures and planning give Chandigarh its unique presence. Adding art to its public spaces can take it to the next level; we ask artists what's on their wish-list.
Welcome step
Artists are an integral part of the society, though they are seldom considered that. Art and culture usually are the last priority of any government. UT Administration coming up with a public art policy is a healthy, welcome step.
Chandigarh is true to its formative character as a City of sun, space and silence. Art though has largely been housed in galleries and museums. With a public art policy, it would be great to have some participative and monumental works - where the public could play with space or sound! Also, it would be good if one could have spaces that offer young artists a chance to showcase themselves. Such a move would not only give a new look to the city, but a new art-enriched life.
— Prem Singh, former principal,
Government College of Art-10
Careful & selective
It is a good move, but should be done carefully and selectively. Public art does not mean art by public. Secondly, the modernist ethos of the city must be maintained. For public art there should be a committee that has architects, artists, historians, conservators and social activists on board. Or one can have an artist whose vision encompasses all these thoughts.
With Chandigarh being one unique experiment, the stakes here are high. The entire world is on watch - how it is evolving vis-à-vis its users. I am not for fossilising a city in name of heritage; have such zones for sure but the city can progress. Its public art could be a testament to what it was, is and aspired to be. Public art must be relatable to the city's architecture, cultural ethos, environment and its history.
— Diwan Manna, President,
Punjab Lalit Kala Academy
Huge scope
It sure is a good move; Chandigarh with its open green spaces has huge scope for public art. But it must be a thoughtful process with a committee to monitor what comes up where. Not like anything put up at any place! Green spaces dotted with 3-D art would certainly add to the character of the city.
— Bheem Malhotra, chairman, Chandigarh Lalit Kala Akademy
Charming city
Chandigarh due to its unique location gets a tourist footfall throughout the year. Public art would only add to its charm. I believe city artists coming together to claim public spaces and coming up with something experimental, entirely non-restrictive, would go well with this young city's character. Also, art will ensure that public spaces become more beautiful.
— Rabani Bhagat, artist
Chance to explore
Would be amazing to have some art that goes with Chandigarh's character, but it must be eco-friendly. Interactive art could not only add to city's beauty, but also help city folks explore more. City's bare walls or flyovers can get a fresh lease with some paintings!
— Shiva Kumra, artist
mona@tribunemail.com