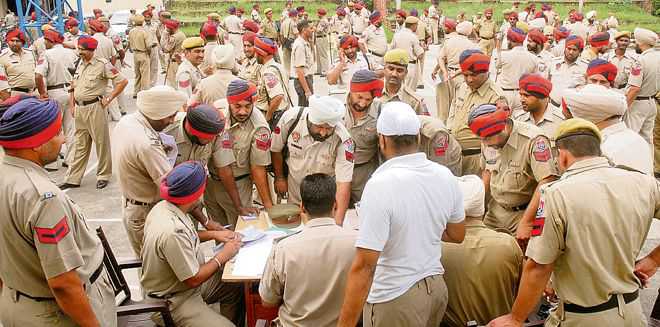 editorial@tribune.com
Aman Sood
Tribune News Service
Patiala, March 13
Two days after DGP Dinkar Gupta warned officials of a salary cut of Rs 52,000 per constable given by them in an unauthorised manner, over 3,000 cops were summoned at all police districts and battalions today. They have been asked to join their place of postings "with immediate effect".
About 1,000 persons, a majority of whom are politically connected, were guarded by more than 3,500 Punjab Police personnel drawn from the district cadres and reserved battalions.
Sources said many such self-styled VIPs were today seen pleading to keep their "illegal security".
The security wing of the police, which is not covered under the RTI Act, had given written orders to provide gunmen to "VIPs". In many districts, those with political influence continue to get security officials following verbal orders from the police headquarters.
Sample this: A Punjab Public Service Commission member has over a dozen gunmen attached with him unofficially as he is related to a senior police officer while his political inclination to the ruling party is an open secret. The chairman of a board aligned with a Cabinet minister, district Congress committee members, retired DSP and above-ranked officials are among the persons enjoying security cover.
On March 11, the state DGP stated in a letter that all such officials should withdraw unauthorised security and send a compliance report by March 14 noon.
"The security wing is under the control of the state government. It has obliged political bosses by providing unwanted security to them. Congress leaders continue to get undue protection while other leaders remain unprotected," said Patiala MP Dr Dharamvira Gandhi.
Sources said several leaders from the Youth Congress, the Congress, serving and retired bureaucrats, politically connected self-styled leaders and religious heads continue to get security cover on the pretext of threat perception.
"On an average, a police district has 1,200 to 3,500 personnel on its rolls. While 10 per cent of the force is protecting VIPs officially, five per cent is deployed with self-styled VIPs off the record," said a former IPS officer.
Top Stories