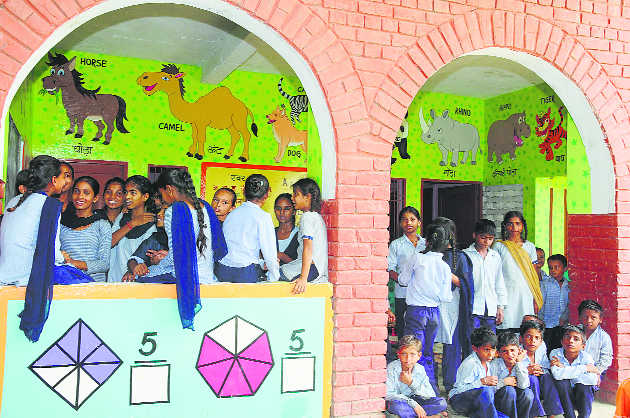 singhking99@yahoo.com
geetanjali gayatri
Lakshmi, a student of Class IV of Government Senior Secondary School at Sadarpur village in Karnal district, had never heard of a panda or even seen its picture but since her school re-opened after the summer break, it has become her favourite animal. This has come about due to the BaLA paintings that adorn the school walls.
An acronym for Building as Learning Aid, the BaLA paintings that cover the walls of the school in the most backward pocket of Gharaunda are a centre of attraction for students when it comes to learning lessons from their syllabi.
Tables and shapes for middle school students, mathematics formulae for senior students, animals, birds, body parts for primary school students — the paintings are a way of teaching them while they play.
At Garhi Khajoor village in Gharaunda, Khushbu, a Class VIII student, takes great pride in being able to explain the water cycle. "We are yet to cover this in our syllabi but since the school opened after the summer vacation, we have spent our free time understanding these paintings. Now, I can explain any of these concepts," she says.
Anil Kumar, a primary teacher at the Garhi Khajoor village school, says that the makeover of the school building has had a positive impact on students' interest in learning their topics. "Besides making the building look colourful, the pictures are proving to be of great interest to students of all classes. We had only basic lessons like the Hindi and English alphabet, mathematics tables and some other topics on our school walls till we were approached by an NGO with an offer to re-do the entire building," he says.
Ayeshna Kalyan and Baljeet Yadav, who have founded NGO Varitra Foundation, say the concept came from their previous jobs. Both of them were earlier employees of an institute that used to work on monitoring various schemes.
"We realised that NGOs were working on different aspects in the field of education. Though they were doing well in their fields, schools were not growing because of disconnect. We decided to initiate a programme that handled everything from learning to infrastructure to teaching," says Ayeshna, the daughter of local MLA Harvinder Kalyan.
Baljeet says that the concept of convergence of efforts came up and they founded the Varitra Foundation, which literally means an umbrella. "We started this collaborative platform and have brought together six NGOs working on various aspects to transform government schools with community involvement," he adds.
The NGO has zeroed in on 15 schools in Gharaunda for the first phase of its programme and two schools are ready with paintings on their walls. The school building has been used as a learning space; two-hour remedial classes are conducted for students who want to enhance their learning levels. And they have employed local girls to teach.
"Community participation was the key component, which is why we have hired the most qualified girls of the villages to teach students in remedial classes. We went from door-to-door in villages and explained to residents what we wanted to do because we did not want to start something that would ultimately discontinue on our exit. As local village girls are involved, we are hopeful that the community ownership of the school will help them maintain the standards we have set in three years," says Ayeshna.
The NGO preferred an all-girls team and hence has employed 15 village girls. They are teaching students in remedial classes that are getting a tremendous response from people. Around 70 to 120 children attend classes for two hours every evening. The sarpanches, teachers and the school principal are all being involved in the exercise. While six such schools will be ready by August, the remaining will be done during the academic session.
Naresh Kumar, a JBT from Sadarpur, explains mathematical shapes with the help of the picture of a clown. He says, "It is an interesting thing for a village school. The results of this exercise will come at the yearend. Since it has only been a few days, all I can say is that the pictures are a big attraction for the students. Let us see if this interest holds for a while".