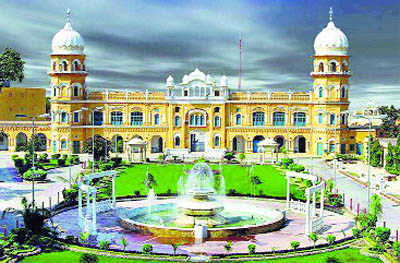 editorial@tribune.com
Lahore, August 7
Pakistan has made it mandatory for local Sikhs to take prior permission from the top Sikh religious body before visiting other countries, especially India. There are around 1 lakh Sikhs in the neighbouring nation.
"Pakistani Sikhs will now have to take prior permission from the PSGPC (Pakistan Sikh Gurdwara Parbandhak Committee) to leave the country," said Saddiqul Farooq, Evacuee Trust Property Board Chairman. Farooq said the decision had been taken to have record of the Sikhs who left the country to visit holy places, especially in India.
"We want to include the PSGPC to have a complete record of the Pakistani Sikhs leaving the country for pilgrimage," he said without giving reasons for taking this step. Earlier, there had been no such restriction on the movement of the Pakistani Sikhs.
On a proposed legislation related to Sikh marriages and committee, Farooq said two panels had been constituted to look into the matter. The evacuee trust board, which looks after the upkeep of holy places belonging to the minority community in Pakistan, has also announced construction of residential apartments near Gurdwara Taru Singh in Lahore. — PTI
Stringent norms
Pakistani Sikhs will now have to take prior permission from the Pakistan Sikh Gurdwara Committee to leave the country. The decision is learnt to have been taken to keep a record of the Sikhs leaving Pakistan to visit holy places, especially in India
Mixed response from Sikh leaders
The step will make the PSGPC more powerful. The Sikhs will feel secure as the government will have their record. It will be good for us too… those from Pakistan will reach here after proper scrutiny. —Avtar Singh Makkar, sgpc president
The gurdwaras in Pakistan are in the grip of the ISI. They suspect the Sikhs may reveal the inside story... Pakistan, as such, wants to give them controlled exposure. —Manjeet Singh GK, dsgmc chief
We are not aware of the exact orders of the Pakistan govt. We will comment only after examining the order. —Daljit S Cheema, punjab minister