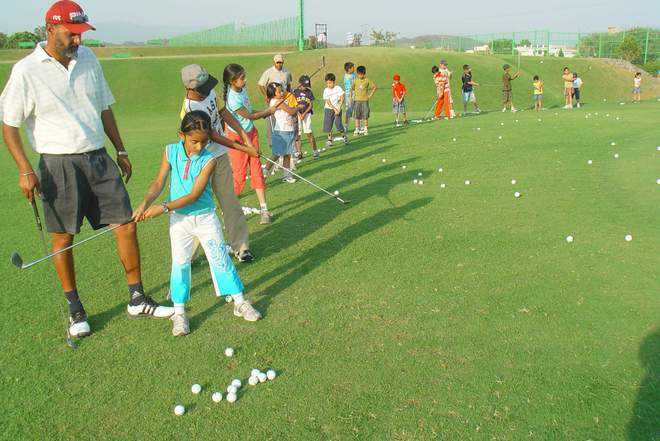 editorial@tribune.com
Manpriya Singh
Police service was his profession. But golf was his passion,' echoed a person. As the political leaders, retired police officers shared a few words recently on the demise of former Punjab IPS officer CSR Reddy, many of his friends and admirers from the golf course remember him as the man who literally green-lighted golf in the city.
Practicing advocate and retired DGP, Haryana Police, Rajbir Deswal, still recalls the time they were together in Baton Rouge, the capital of Louisiana in 2002. "We were together attending a terrorist assistance programme and while during weekends most of us would be hunting for plantations or scenic locations, he could be found playing golf. His Saturdays and Sundays were reserved for the game, and he did all it took to be able to play." From faking illness to disappearing on his colleagues!
There is another incident that he recalls when his son visiting from Seattle mentioned a certain golf buddy back in Chandigarh. "I got curious to know who it was only to later find out that it was CSR Reddy. On a serious note, he was so committed to the game that he encouraged everybody to promote the sport. His encouraging words ensured that my son was also instrumental in arranging golfing sessions for the upcoming and amateur golfers."
Encouraging soul
Talk of promoting upcoming talent and professional golfer Harinder Prasad Gupta vouches for the fact, "He created CGA, but more than that he was constantly encouraging all the youngsters to take up the game and grow with it. He was instrumental in organising several golf camps for the underprivileged children. He'd come to us and was constantly taking feedback on the facilities as well as the problems faced."
While he personally did not play a round of golf with the man, but he can tell you where the late IPS officer could be found every Saturday and Sunday. "Yes, early morning on the course playing a round of golf." Dr Satbir Singh, SMO, Government Multi-specialty Hospital, Sector 16, is at a loss of words. "Especially, when it comes to talking about his contribution towards the sport."
But having played with him several times, he lets you in on the kind of person he was. "He was a very soft-spoken, polite person. Conversations would often centre around the promotion of the game. It was truly his passion."
Golf tourism
With passion comes vision. The one that Vivek Atray, ex-IAS officer and TEDx Speaker, got a peep into while working with him. "I was the director of tourism and he was the president of the CGA; it was in 2007 and 2008, he wanted to promote the city as a destination for golf tourism. There are three fully functional golf courses in the city, which makes it an ideal hub.
"The first golf tourism event of the city was held in which several NRIs came forward. "That event even did as many as 10 editions, so it was definitely a success." There was something else that late CSR Reddy was planning. "Japanese tourists love golf. There were plans on paper at least as to how the city could provide infrastructure, have them flown here, make them play a round of golf and then have them taken back."
All it takes is a little bit of vision and lots of passion. Once in a while there comes a person who has both.
manpriya@tribunemail.com
Cities