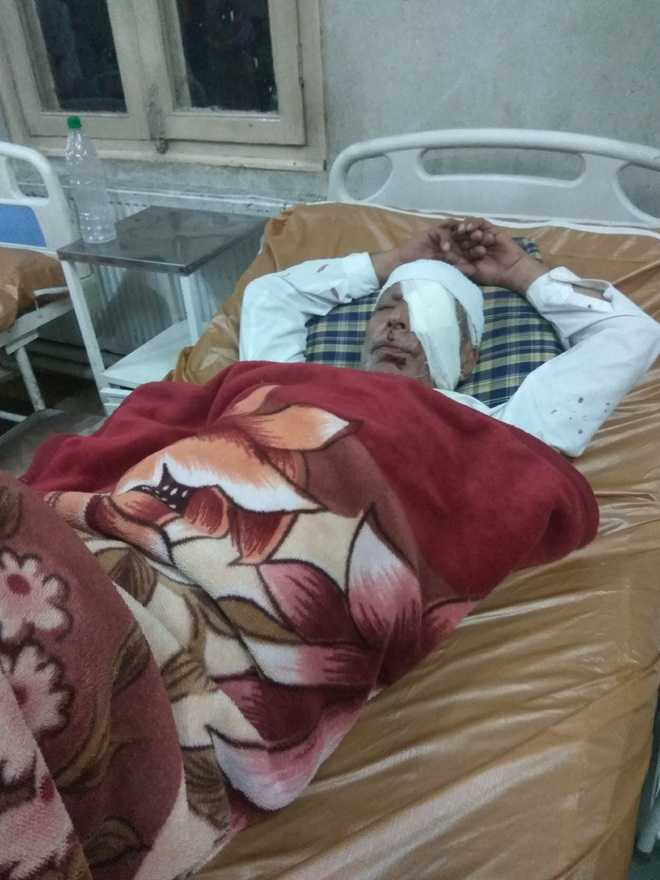 editorial@tribune.com
Ishfaq Tantry
Tribune News Service
Srinagar, August 18
Pellet guns, one of the dreaded and much-criticised riot control weapons, are back in use in Kashmir as hospitals in Srinagar have started receiving patients with pellet injuries since the abrogation of Article 370.
Till Saturday evening, Shri Maharaja Hari Singh Hospital (SMHS) received five patients with pellet injuries in eyes, including 78-year-old Mohammad Siddiq Dalal, who was shot with pellets in his left eye and back.
"I had just come out of the mosque after offering the Assar (mid-day) prayers when I heard commotion in the street. Suddenly, I heard a bang and the next moment, I received a burst of pellets in my left eye, shoulders and the back," Dalal, lying on a bed in the Ward 8 of the SMHS hospital told The Tribune, while showing his bandaged left eye and the back, with multiple pellet injuries. Dalal, who hails from Aali Kadal area of down town Srinagar, which is under lockdown for the past 14 days, said protests were going on in the area when the J&K police used pellet guns to disperse them.
Dalal's wife Rafiqa Begum, who was tending to him in the hospital, said that the doctors, who have already performed one surgery on Dalal's injured eye, were apprehensive if his eyesight could be saved. She squarely blamed the police for her husband's pellet injury. Just opposite to Dalal in the same ward lay pharmacist Sameer Hussain Qadri, 46, who too has received a serious pellet injury in his left eye. His neighbour Altaf Ahmad said Qadri was working inside his pharmacy Daar-ul-Atta in the Kathi Darwaza area of Downtown Srinagar when the police fired a volley of pellets the shop at around 4.30 pm on Saturday, injuring him in left eye. Qadri's neighbours and relatives blamed the local SHO for the incident.
In the same ward, lay 16-year-old Waris with pellet injuries in right eye. His maternal uncle Rafiq Ahmad, who did not permit to take pictures of his nephew, told The Tribune that Waris was "standing at our front gate in the Lal Bazaar area" when security forces vehicle appeared in the area around 5pm on Saturday, firing pellets and tear gas shells. "Scores of women, besides Waris were injured," he said adding that they first rushed him to SKIMS Soura, from where he was he was referred to the SHMS. Rafiq too was worried about the eyesight of Waris, adding the pellet still lay inside the teens' eye.
..........
50 injured since August 5 (BOX)
A resident doctor, who declined to reveal his identity, said that on Saturday 5 people with pellet injuries from different parts of Srinagar were brought to the ward. Though the government had so far not released the figures of total injuries since August 5, official sources said the SKMIS Soura & SHMS Hospital in Srinagar alone had received more than 50 injuries during the past 12 days. However, the nature of these injuries is still not known even as three people with critical injuries continue to be treated at SKIMS hospital, official sources said.
Doctors at the hospital say that only the injured with pellet injuries in eye are rushed to the hospital, while those receiving injuries in other body parts prefer to stay away, fearing profiling by the police.
"The actual number of injured in very high," said a doctor. "Only those with critical injuries, especially in eye, are brought to the SMHS."
Cities