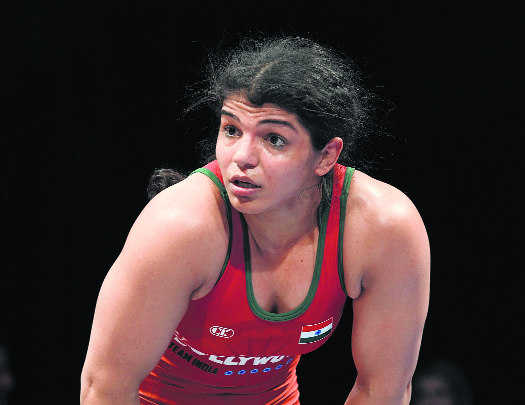 shalender@tribune.com
Lucknow, August 19
Pooja Dhanda and Navjot Kaur, who failed to book berths in the World Championships squad for the Olympics categories, made it to the non-Olympics divisions in the absence of competitors in the trials here today.
The trials were held in four non-Olympics categories. Pooja will compete in the 59kg, while Navjot will be India's entry in the 65kg category. There were no entries in their categories as the Wrestling Federation of India (WFI) had barred 25 grapplers, including seven in trial categories, from participating on grounds of indiscipline. Monday's trials in the four categories figured just two bouts.
In the three-wrestler 55kg draw, Lalita got a bye and then beat Meenakshi 9-1 in the final bout to qualify for the Worlds. Meenakshi had outplayed Kiran 5-0 in her opening bout. In the 72kg two-wrestler draw, Komal earned the ticket to the World Championships with a close 3-2 win over Nikky.
Sakshi expelled from national camp, taken back
New Delhi: Rio Olympics medallist Sakshi Malik was expelled from the national camp by WFI for leaving the training centre in Lucknow without permission but was later allowed to rejoin after she replied to the show-cause issued to her. In a shocking turn of events, 25 out of the 45 women grapplers, who train at the SAI centre in Lucknow, reported absent from the national camp without taking permission from the national federation. Out of these 25, three grapplers including Sakshi (62kg), Seema Bisla (50kg) and Kiran (76kg) had recently qualified for the World Championships. The deadline for submitting a reply is Wednesday. The men's freestyle trials in the 74kg, in which Sushil Kumar competes, will be held tomorrow. — PTI
Women's squad
Seema Bisla (50kg), Vinesh Phogat (53kg), Lalita (55kg), Sarita Mor(57kg), Pooja Dhanda (59kg), Sakshi Malik (62kg), Navjot Kaur (65kg), Divya Kakran (68kg), Komal (72kg), Kiran (76kg)