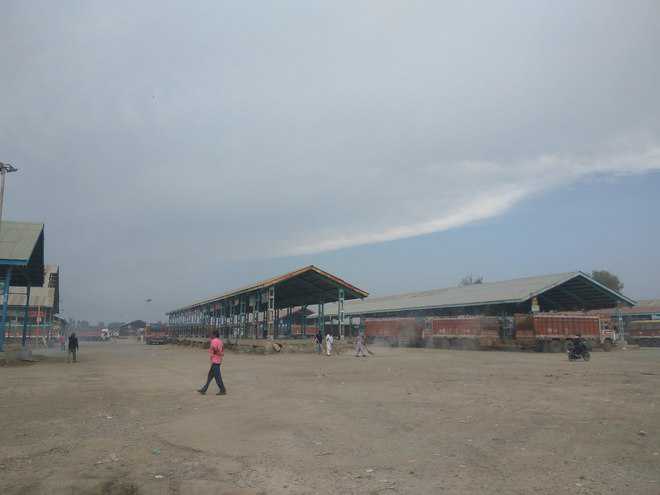 editorial@tribune.com
Ishfaq Tantry
Tribune News Service
Sopore, September 11
Six days after suspected militants barged into the house of a prominent fruit trader in north Kashmir, the Sopore Fruit Mandi, one of the largest wholesale markets of apple in the south Asia, remains shut and deserted.
The only visible activity in the morning hours inside the sprawling complex, with empty trucks lining alongside empty stalls, are around two dozen sweepers busy cleaning pathways and bays among the stalls.
The sweepers are from the Sopore Municipal Corporation and the area is being spruced up for the visit of some higher officials as the government has roped in the National Agriculture Cooperative Marketing Federation of India (NAFED) to implement the Special Market Intervention Price Scheme (MISP) in an effort to procure apple from the growers and aggregators.
The fear generated by the September 6 attack at the house of Haji Abdul Hameed at Dangerpora village, a prominent fruit grower and trader of the area, in which four persons, including his son and his daughter were injured, is visible at Sopore mandi, as not a single fruit trader is present at the designated stalls.
As an unannounced shutdown continues in the rest of the Valley, including the areas surrounding the mandi in the Sopore area, the fruit growers are also not eager to bring their produce to the market.
"From September 2 to 5, the fruit mandi was completely closed. However, on Friday the mandi opened for trade in the morning hours and the loading of the fruit stretched for the rest of the day. On the same day, there was an attack inside the house of a prominent fruit trader at Dangerpora," an official of the J&K Department of Horticulture Produce and Marketing at the mandi told The Tribune.