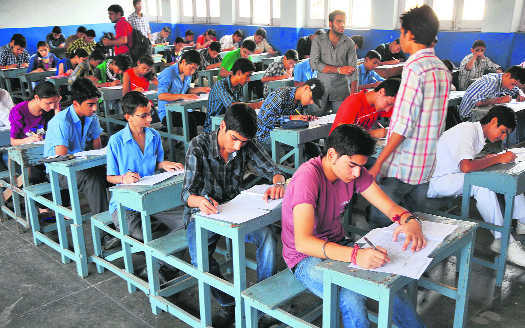 editorial@tribune.com
Sanjeev Singh Bariana
Tribune News Service
Chandigarh, August 22
In a bid to provide relief to students of Classes X and XII, who could not clear their examination even in reappear or compartment chances 2004 onwards, the Punjab School Education Board (PSEB) has decided to give them a special chance to mark the 550th Parkash Utsav of Guru Nanak Dev.
However, there is a catch. The board has sought Rs 15,000 for the chance. Eyeing a response from at least 50,000 students, the board is expecting to generate at least Rs 75 crore.
The move has evoked a sharp criticism from various quarters. Devinder Punia, general secretary, Democratic Teacher Front, said "It is a pity that the board was trying to make money in the name of Guru Nanak Dev, who preached simple living and high thinking."
The special chance can also be availed by students who wanted to improve their previous result. They can take the chance in as many subjects as they desire. The students are required to deposit the fee on September 4 and forms on September 9. The examination will be conducted in September itself.
The PSEB had earlier charged nearly Rs 3,000 for the special chance. A government school principal said, "Most of the government schools students belong to poor families, so the special chance can only have relevance for them in case the fee is kept low."
Justifying the move, a board official said, "In the wake of big expenditure involved in the conduct of examination, we are charging a reasonable fee. Our board is in a deep financial mess and does not have enough finances to pay even staff salaries. Even the student fee is no way out of our current situation."
The official also said most of the universities charged decent amounts for giving special chance to students, who flunked exams repeatedly. Punjabi University, for example, was charging Rs 10,000 for the first attempt, Rs 15,000 second, Rs 20,000 third and Rs 35,000 for the final chance with the permission of the vice chancellor, he added. Besides the 550th Gurpurb, the board has also cited its golden jubilee as another reason for the special chance.
Move flayed
"The move has evoked criticism from various quarters. Devinder Punia, general secretary, Democratic Teacher Front, said "It is a pity that the board was trying to make money in the name of Guru Nanak Dev, who preached simple living and high thinking."
A board official said, "In the wake of big expenditure involved in examination, we are charging a reasonable fee."