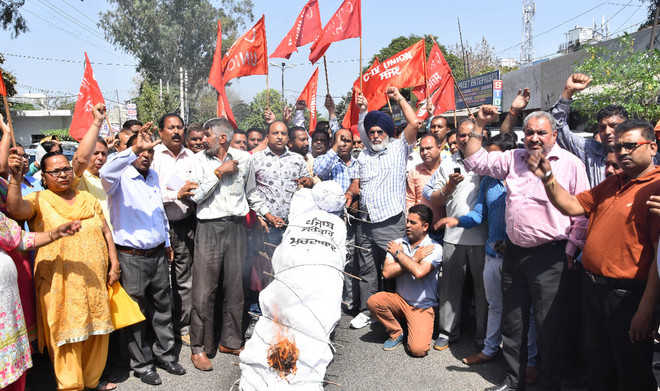 editorial@tribune.com
Tribune News Service
Jalandhar, April 8
Punjab Roadways Punbus Contract Union workers today organised a gate rally at both depots of the Punbus.
The rally was conducted at all 18 Punbus depots across the state. Agitating against the government and Punbus officials, the workers said new contractors were hiring new workers on a contract basis. However, when the model code of conduct is in effect, it is illegal to recruit new employees, union leaders said.
The workers also burnt effigies of various officials and referred to them as "corrupt".
The district chairperson of the Punbus union, Balwinder Singh, and the secretary, Sukhdev Singh, said the new contractors, Datar Security Services, hired by the government were inexperienced and the corruption rate had further gone up ever since they took over the charge. Not only salaries of workers cut down but also unnecessary penalties were imposed on them to acquire money.
Balwinder said on account of the GST, the contractors were given Rs 40 lakh in a month.
President of the Punbus Depot-1 Gurpreet Singh said the contractors were planning to privatise the Punbus Department. Instead of including 298 debt-free buses of Punbus into Punjab Roadways, the contractors and the government was planning to shift the buses into private bodies. The roadways was on the verge of its closure due to the same as at present, it owns only 50 buses, said Jaswant Singh, president of Punbus Depot-2.
Besides, the union workers alleged that all fixed deposit savings of Punbus had been utilised by the contractors for installing 400 GPS devices on the buses and CCTV cameras in depots. Whereas, no expenditure details were displayed.
Hence, the workers demanded that not only the charge of the Punbus should be given to the previous contractors but also the unnecessary recruitment of workers should be curbed. In addition, the union workers demanded that the outsourced contractual workers should be made contractual and eventually regularised under the Punjab Roadways.
They said the protest would be intensified if their demands would not fulfilled.
Top Stories