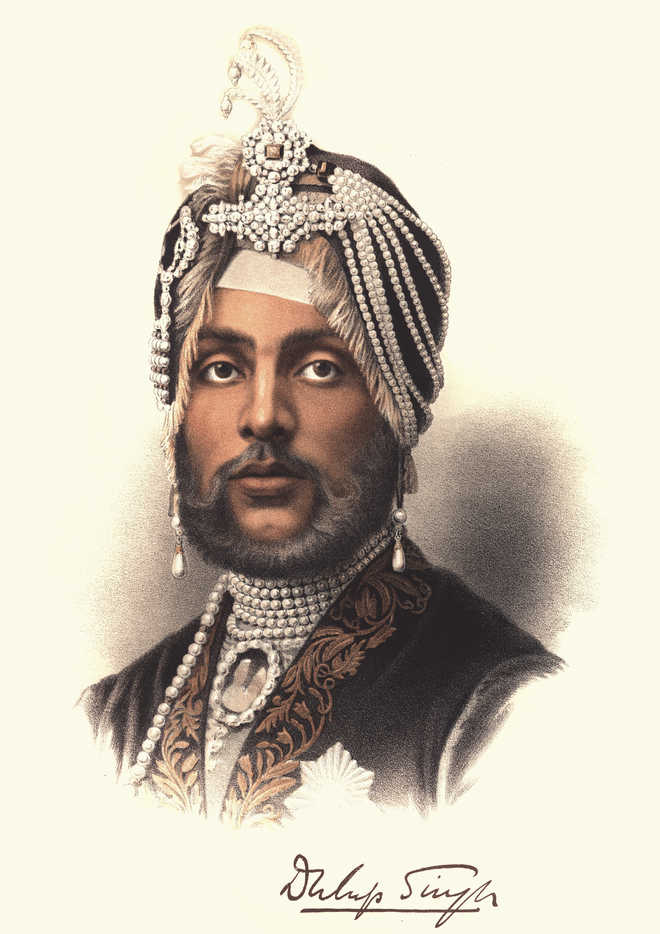 Ashish Ray in London
One hundred and twenty-four years after the death of Punjab's Maharaja Duleep Singh, who was dethroned by the British, controversy festers over whether his remains should be taken back from England for cremation in Punjab according to Sikh rites. The film "Black Prince," an Anglo-American co-production that was released internationally on Friday, has certainly rekindled the debate among Indians, especially Sikhs, in Britain.
(Follow The Tribune on Facebook; and Twitter @thetribunechd)
The Maharaja, who was forced to spend the greater part of his life in exile, lies buried at Elveden Church in Suffolk in eastern England. There's a strong opinion that it would be only right to exhume his body and take it to Punjab for cremation there. The Maharaja was interred as per the Christian custom.
Lord Diljit Singh Rana, a member of the House of Lords, says: "I support the return of the Maharaja's remains to India. They should be taken to Punjab for last rites in accordance with Sikh and Hindu customs.
"As you know, he wanted to go back to Punjab but was prevented from doing so because the British feared there would be a rebellion if he returned." Rana, born in Sanghol, wears many hats. Apart from being a peer, he is India's honorary consul in Northern Ireland, where he has lived for 51 years. He is also president of the Global Organisation of People of Indian Origin.
Virendra Sharma, MP for Ealing Southall, which has the largest number of Sikh voters, says: "I will take up the issue with my colleagues in Parliament, the British Government and the Indian High Commission so that a solution can be found.
"There is a moral responsibility here. Relations between Britain and India are now at a different level. It would be a fine gesture on the part of the British Government to respond favourably, if the Indian Government asked for the remains to be taken back to India."
But Amandeep Singh Madra of the UK Punjab Heritage Association does not support such a move. He recently told the BBC that Duleep Singh's last will was: "I wish to be buried wherever I die."
Duleep Singh was born in Lahore in 1838. His father Maharaja Ranjit Singh died the following year. Duleep Singh ascended the throne at the age of five, His mother and uncle ran the affairs of state till 1849 when the British annexed Punjab. Duleep Singh was separated from his mother Maharani Jind Kaur. After an upbringing with an English couple in India, he was packed off to England in 1854.
"He was taught a very English way of life – his language, culture, religion were cut off from him and he became a ward of the British. And here he could be moulded to how the British wanted him to be," says Historian Peter Bance. The young Duleep Singh, in fact, converted to Christianity.
Queen Victoria, who was then the British monarch, took a liking for him. She fondly called him "my black prince". Records show he became an exotic presence at royal parties, even holidayed with the sovereign and her consort Prince Albert. Indeed, he enjoyed the lavish life of an English aristocrat.
Thirteen years after he his arrival in Britain, he felt the pangs of separation from his mother and insisted that she be allowed to join him. After her premature death, he married Bamba Muller, a devout Christian of German origin. The couple had several children. He also had offsprings from a later relationship. None of his descendants survive though.
His life in Elveden Hall was one of a luxury he could ill-afford on the stipend the British gave him. Falling into debt, he demanded compensation for his lost land in India. This was ignored.
In 1886, he set sail for India to reclaim a part of his assets but was placed under house arrest at Aden. He then attempted to organise an uprising with a motley group of Russians, Americans and the Irish. This never really took off. He, meanwhile, converted back to Sikhism. Eventually he died a lonely man in a Paris hotel. The film "Black Prince" depicts Queen Victoria apologising for the "injustice" done to him.
Top News
Gilon also pulls up Indian social media users doubting the h...
Actor Anupam Kher condemns Nadav Lapid's controversial remar...
The raids are being conducted at the residential and other p...
The troops fire at the drone at 11.05pm on Monday after they...
Initially, the cops believe Amritpal Singh's story but when ...