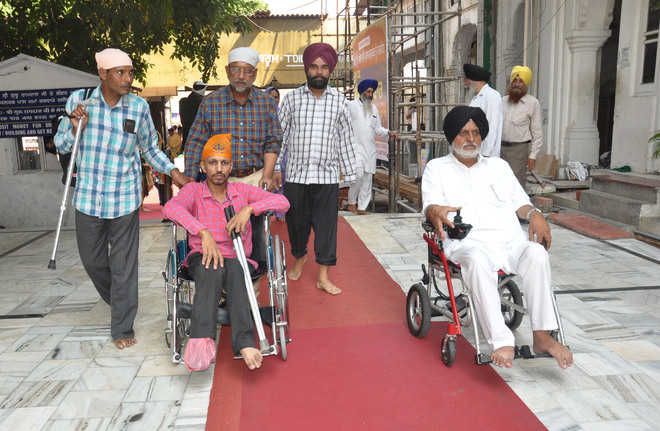 Neeraj Bagga
Tribune News Service
Amritsar, October 12
A resident of Patiala, Shingara Singh Shergill, today approached Akal Takht, seeking directions to the SGPC to make arrangements for physically challenged devotees at the Golden Temple.
Shergill, who is paralysed by polio, said his wheelchair was not allowed inside the complex by SGPC staff in February. "They wanted to carry me on their back to the sanctum sanctorum. I refused. Physically challenged are not burden on anybody," he said.
He emailed six times to the SGPCdemanding disabled-friendly infrastructure. He said it was his fifth email on June 5 that elicited a response from the office of SGPC president Gobind Singh Longowal, mentioning that his request was being considered. Finding no change, he shot off another email on June 13.
"As per Sikh tenets, I wear turban and ready to wash my feet before entering the Golden Temple. A barrier-free environment must be created in the Golden Temple complex as per the Rights of Persons With Disability Bill 2016," he said.
Ranjit Singh, another devotee with disability from Bathinda, says adequate space is not there between pillars for wheelchairs on the stretch from Saragarhi Parking to the Golden Temple.
Besides, parking fee is being charged from physically challeged, he said. SGPC Chief Secretary Roop Singh said, "There are two chair lifts and one general lift to assist people with disabilities and elderly. There is also a ramp from the entrance near Langar Hall. The Saragarhi parking is being managed by the government."