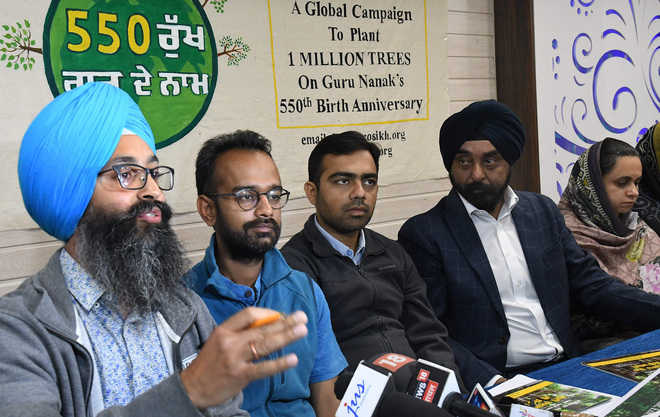 Tribune News Service
Chandigarh, March 14
EcoSikh, an NGO working for environment preservation, on Thursday announced the "Guru Nanak Sacred Forests" project and the "Breathing Punjab" initiative.
The NGO is working in coordination with Afforestt, a group working to create forests, which has helped in creating a forest with 350 trees at Gill Patti village in Bathinda to commemorate the 550th birth anniversary of Guru Nanak Dev.
Announcing the initiatives at a joint press conference, the EcoSikh Club and Shubhendu Sharma, founder of Afforestt, unveiled detailsof the Guru Nanak Sacred Forest project. EcoSikh's forest creator Charan Singh from Mumbai said, "The forest includes 33 native species that were planted by the famous Miyawaki Japanese method."
At a three-day workshop organised by EcoSikh, over 80 trainees were taught the Miyawaki afforestation methodolgy and also practically trained by Shubhendu Sharma by building this 100-sq m forest in which they planted 350 trees.
Sharma, who has set up 132 forests in 16 countries, said given the poor quality of air, small patches of forests were required in Punjab in cities like Mandi Gobindgarh, Amritsar, Jalandhar, Ludhiana, Patiala and Khanna that have featured in the list of most polluted cities of the world.
Among cities of the state, Mandi Gobindgarh ranks at the top at 26th position followed by Amritsar at 57th, Jalandhar at 82nd and Ludhiana at 95th positions.
Ravneet Singh, EcoSikh Project Manager, said EcoSikh was planning to continue with such sacred forest projects across Punjab and other parts of India and abroad.
33 species planted
EcoSikh is an NGO working for environment preservation
The NGO is working with Afforestt, which has helped in creating a forest with 350 trees at Gill Patti village in Bathinda to commemorate the 550th birth anniversary of Guru Nanak Dev
The forest includes 33 native species that were planted by the famous Miyawaki Japanese method