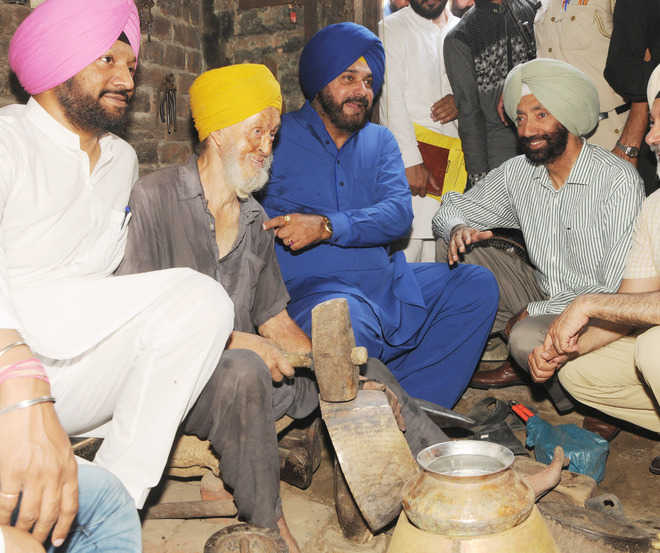 GS Paul
Tribune News Service
Amritsar, May 27
Located around 10 km from Amritsar, a small settlement of "thatheras" (traditional copper and brass utensil makers) called Bazaar Thatherian in Jandiala Guru caught the fancy of Local Bodies, Tourism and Culture Minister Navjot Singh Sidhu on Sunday.
Their business has seen a sharp fall over the years despite the art form being included in the "UNESCO Intangible Culture Heritage List". No efforts have been made by successive governments to uplift the "thatheras". Accompanied by Amritsar DC Kamaldeep Singh Sangha, state Tourism Director Shiv Dular Singh and students of New Delhi-based ENACTUS Shri Ram College of Commerce, Sidhu went through the narrow streets of the traditional market where "thatheras" carve impressive utensils.
Sidhu announced a corpus fund of Rs 10 lakh for the revival and existence of this art while claiming that there would never be a dearth of money for these artists. "This is the only Indian art form recognised by UNESCO. These people are our pride. Today, I promise them that our government will never let this art fade away. The government will add money to the corpus fund on an annual basis", he said.
Sidhu offered them free shops to market and sell their products at Gobindgarh Fort and Town Hall and assured their participation in the upcoming Global Festival which is scheduled at Dubai.
The major reasons behind the slowdown in their business are lack of design modifications meeting contemporary market needs, very little exposure to the niche market and cheaper options available in plastic, silver and steel. The art is dying as the next generation is not willing to pursue it. The cost of manufacturing these utensils comes out to be approximately Rs 400 per kg. The few craftsman making "deg tamba" are being paid a daily wage of anything between Rs 20-40 while the market selling price of the product is somewhere between Rs 500-540.
DC Kamaldeep Singh Sangha said a joint initiative was taken recently by the district administration and the Enactus Shri Ram College of Commerce under the name "Project Virasat". Their products have already been showcased at various exhibitions in a much smarter and modified way under a brand named P-Tal. Initially, a few thatheras came on board but soon, the number increased and under the chairmanship of the DC, Punjab Thathera Art Legacy was formed under the Societies Act, 1860.
Top News
Harried passengers take to social media to vent their ire at...
Lapid had stirred a massive controversy by terming Vivek Agn...
Final turnout to be higher as voting process continued at po...
DigiYatra will provide seamless entry and embarkation proces...
His song 'Mahakaal' removed from YouTube after 19 hours