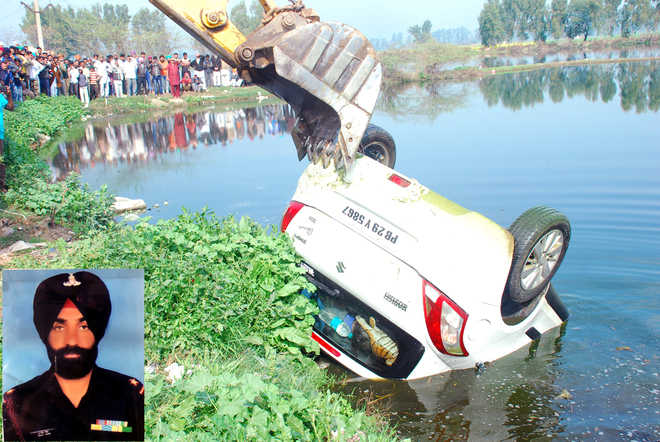 Tribune News Service
Moga, March 7
The police have recovered the bodies of two Army personnel from a Swift car that fell into a pond at Bhinder Kalan village of the district. The deceased have been identified as Surjit Singh of Bhinder Khurd village and Harpreet Singh of Balsanda village of Ropar district. They were posted at a military unit in Jalandhar.
Preliminary investigations revealed that Surjit along with Harpreet had come on leave to meet his family at Bhinder Khurd village on March 3, but their car fell into a pond at Bhinder Kalan village.
Family members of Surjit inquired about him from his office. Thereafter, Army officials informed about him to the local police. The police found that the last location of Surjit's mobile phone was located at Bhinder Kalan village.
A manhunt was launched in and around the village. On Thursday morning, a local sighted one tyre of the car in the pond and informed about the police. The car was fished out from the pond and the bodies of both the Army men was recovered from it. A case has been registered and further investigations are on.
Top News
Premises connected to news portal's journalists raided; 46 s...
Prime Minister accuses BRS dispensation of 'looting' funds m...
This is the gist of the letter sent by CM to Banwarilal Puro...
Also said that it's important for Canada to have diplomats o...
Petitioner contended that the nature of information sought i...