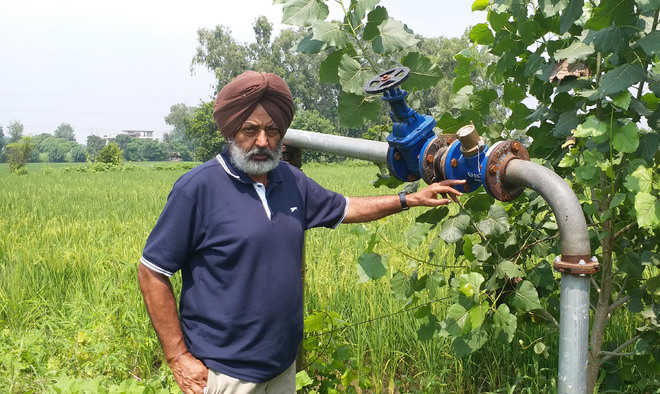 Avneet Kaur
Jalandhar, August 29
The 'Paani Bachao, Paise Kamao' campaign, launched by the state government to check depletion of underground water by offering financial benefits to the farmers for every unit of power they save, has started yielding good results. As many as 277 farmers have applied for the scheme with the Punjab State Power Corporation Limited (PSPCL).
Besides, a total subsidy of Rs 15.74 lakh for saving 3,93,645 units has been disbursed among the enrolled consumers of six pilot feeders so far, as per reports of the Energy and Resources Institute (TERI).
Launched in June 2018, the scheme is a direct benefit transfer for electricity (DBTE) to agriculture pumpset consumers and had six feeders in Jalandhar, Hoshiarpur and Fatehgarh Sahib districts in the first phase of its implementation, covering a total of 940 consumers in over 30 villages.
Also, 20 demo farms have also been set up in the three of six feeders under the scheme. "With demo farms, the scheme is generating awareness and actively handholding farmers in adopting various techniques and practices, while also establishing linkages with relevant government departments to avail subsidies," said Mandeep Singh, Agriculture Development Officer, Jalandhar.
He said World Bank and Abdul Latif Jameel Poverty Action Lab (J-PAL) were supporting in implementing the scheme on new feeders along with The Energy and Resource Institute (TERI), IT Power India (ITPI) and Punjab Agricultural University (PAU). Gurdip Singh Rai, a farmer from Bambiwal village who has enrolled himself in the scheme, said: "I saved 854.84 electricity units and received an incentive of Rs 3,419, which was directly transferred into my account in May."
Navdeep Samra, SDO, PSPCL, said the scheme had entrusted the responsibility of judiciously using water and electricity on to the farmers. "The farmers are more conscious while using tubewell. The scheme has brought greater awareness regarding the depleting groundwater among farmers and we expect more enrollments in the second phase," he said.
---
About the scheme
Under the scheme, agricultural consumers are given a fixed electricity allocation (kWh/hp) for a two-month billing cycle for paddy and non-paddy seasons.

For electricity consumption measured from individual meters that is lower than the fixed allocation, the farmer will get Rs 4 per kWh. Excess consumption above the fixed allocation, however, attracts no charge.
Major challenges
Most of the farmers have taken land on lease. Even if they save electricity and water, the subsidy goes to the land owner, not to the farmer.

The meters installed in the fields of majority of the farmers are still in the name of the deceased family member — grandfather or father. Thus, they do not qualify for enrollment under the scheme.
.