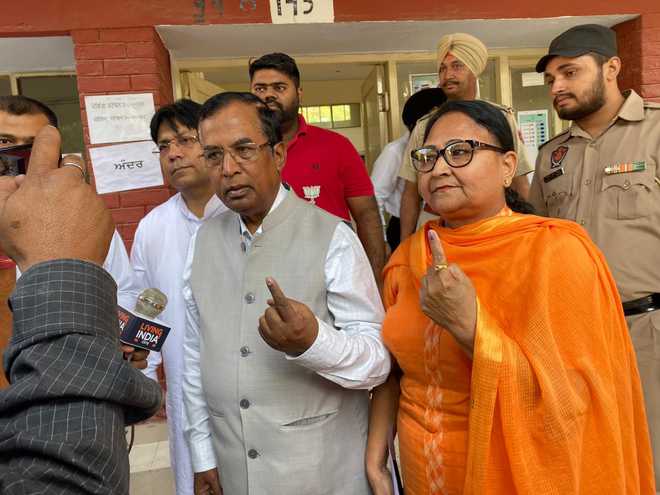 Ashok Kaura
Phagwara, October 21
Phagwara Assembly constituency recorded a polling percentage of 28.31 per cent by 1 PM on Monday amid tight security.
Polling began at 7 am and would continue till 6 pm, Returning Officer Latif Ahmed said.
Elaborate security arrangements were made and 800 police personnel, including two SPs, Five DSPs and two companies of Border Security Force were deployed in Phagwara, according to Senior Superintendent of the Police Satinder Singh.
The SSP added that SP Manpreet Dhillon was monitoring the cops on duty to prevent any untoward incident.
Congress candidate Balwinder Singh Dhaliwal wore a muffler printed with the word Congress and the party's symbol when he went to cast his vote at Booth no 184 in the Market Committee Premises here.
The BJP polling agent objected to this and informed Union Minister of State for Commerce and Industry
Som Parkash who immediately lodged a complaint before Returning Officer Latif Ahmed and Observer Saurav Bhagat.
The Election Officers removed the entire staff at the polling station and replaced them, said Ahmed. A notice of explanation for code violation has also been sent to Dhaliwal as per election rules.
Senior citizens were inconvenienced due to the lack of wheel chairs at several polling booths.
BJP leaders like Som Parkash, Anita Som Parkash, Mayor Arun Khosla, also came out to exercise their franchise.