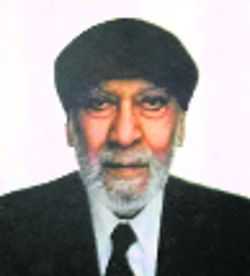 Vishav Bharti
Tribune News Service
Chandigarh, January 2
Why Darshan Baghi has gone into oblivion? The three generations of Left student activists have asked this question in the state. Baghi has finally broken his silence after 50 years. In his memoirs that came out recently, he has blamed the sectarian politics of radical Left for abandoning the Punjab Student Union during its peak.
His book "History of Punjab Student Union (PSU)" reveals that originally the idea of having Left student organisation was conceived by CPI leader Avtar Singh Malhotra in March 1963. "The educated youths were not getting associated with the country's Left movement. Malhotra conveyed this at the first meeting held in Jalandhar."
The book reflects how after subsequent splits in the Communist party, PSU's entire leadership went with the Naxalites. However, Baghi, who was the founder general secretary of the union, entered Punjab's student movement like a summer storm. He remained active just for four years and then silently left for Canada (where he identified himself as Darshan Khaira).
Those four years were full of action — the PSU had swayed educational institutions in the state, clashes took place between the police and students and the government accepted demand to hold student council elections.
At peak of the PSU, Baghi was arrested under the Preventive Detention Act in September 1968. A year later, when he came out of jail, nobody contacted him for 10 days. He became "restless" and went to meet a group of students, including Gobinder Singh (presently known as Ajmer Singh, a Khalistani ideologue) at Guru Nanak Engineering College, Ludhiana, but their rooms were locked. "That was what I had feared. The organisation had taken Left sectarian turn." Later, he found that most of his fellow travellers had gone underground with Naxalites and the PSU was deserted by the leadership.
If a group of "Left sectarian leaders" refused to listen to his moderate views, another group led by Harbhajan Sohi, which he felt was taking correct line, didn't feel the need to meet him despite his repeated attempts. "Baghi's heart started sinking when he saw PSU, which was built after great sacrifices, was becoming non-existent," he notes in the book written as the third person.
Darshan left for Canada under mysterious circumstances where he not only avoided the Left circles but also shed surname Baghi and identified himself as Darshan Khaira.
Top News
Says the gurdwara is open to people from all communities and...
EAM advocates contacts between two governments to resolve is...
Arrested smugglers identified as Sarabjeet Singh of Jhalandh...
Resentment among Punjab Congress leaders over arrest of part...
One of the accused, Amarjot Singh Aroda, was arrested in Pun...