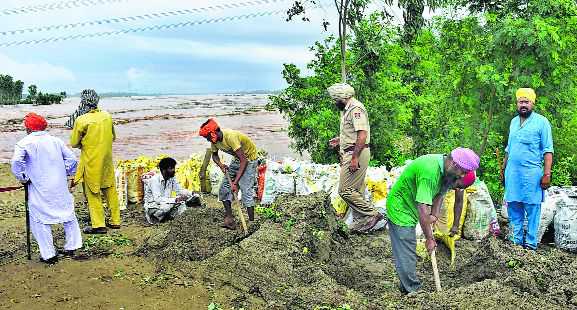 vermaajay1968@gmail.com
Harshraj Singh
Tribune News Service
Bholewal Qadim (Ludhiana), August 19
A 70-ft-long breach in the Dhussi bundh of the Sutlej at Bholewal Qadim village of Ludhiana district flooded nearby areas in the wee hours of Monday.
The breach took place around 4.30 am when the Sutlej water was overflowing. Besides, the water entered some villages falling under Jalandhar district too.
Hundreds of acres of agricultural land has submerged in the affected villages. Besides, the water also entered several houses located in the fields. The NDRF teams have been deployed to rescue people.
Ludhiana Deputy Commissioner Pradeep Kumar Agrawal said water entered the fields in only two Ludhiana villages, including Bholewal. However, sarpanch of Allowal village Gurcharan Singh said water entered five villages, including Bholewal Qadim, Allowal, Majara Kalan, Goindwal and Karaike of Ludhiana district.
Gurcharan said, "A number of villagers, including many youngsters, at Allowal and Bholewal Qadim could not sleep last night as they were keeping a tab on the swollen river and making efforts to put soil on the banks. However, we did not get any timely help from the administration to prevent the floods. Even no alert was sounded in the affected villages."
The administration, however, had earlier announced that there is no flood-like situation in the area.
Surinder Lal, a resident of Bholewal village, said, "We have been asked to shift to safer places after a portion of the bank washed away and water entered in our village. Many people were stranded on the rooftop of their houses and a lot of them have not even eaten since morning."
Meanwhile, several villagers at Bholewal refused to leave their houses despite the request by the administration. The breach, however, could not be repaired till evening.
Punjab Water Resources Minister Sukhbinder Singh Sarkaria said water was being released from the headworks in a planned manner. On Monday morning, the water inflow into the Sutlej slightly reduced, he said.
Gurdwara, dargah flooded
The Sutlej overflowed and its water entered the premises of a gurdwara, dargah and some fields near the Ladhowal toll plaza. The water flow was recorded at 2.23 lakh cusecs at Phillaur headworks at 3 pm on Monday. The water level at Ladhowal bridge was recorded at 237.37 m at 3 pm while the danger mark is at 237.58 m. However, the water level had touched 238 m last night.
---
Minister visits affected areas
Punjab Water Resources Minister Sukhbinder Singh Sarkaria visited Bholewal village, where the Dhussi bundh was breached, to assess the situation.

Sarkaria instructed the authorities concerned to make all necessary arrangements to ensure safety of life and property.
Top Stories
Will cater to similar distressing situations, tweets Modi
Cities