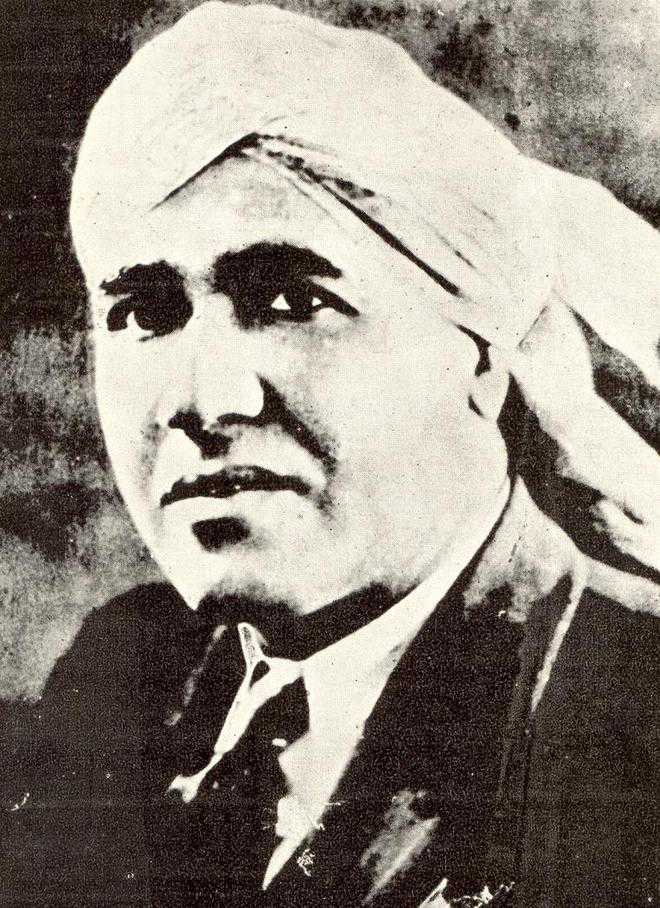 Vikramdeep Johal
Tribune News Service
Chandigarh, July 29
Books, films, songs, memorials, welfare societies — Shaheed Udham Singh has remained in focus over the decades, growing in stature as an iconic revolutionary. However, fact and fiction have become intertwined in the narrative of the Sunam-born Ghadarite, who was hanged in England's Pentonville prison on July 31, 1940.
Udham Singh is best remembered for avenging the Jallianwala Bagh massacre by gunning down Sir Michael O'Dwyer, an imperialist who had a controversial tenure as Punjab's Lieutenant Governor. As per popular belief, the youngster was present on the spot in Amritsar on April 13, 1919.
"He was actually abroad on the fateful day," says Dr Navtej Singh, the author of 'Challenge to Imperial Hegemony' (1998). According to his research, Udham Singh worked in the North Western Railway from 1917 to 1922 and received the India General Service medal for the Waziristan campaign of 1919-20. "He did return to the holy city a few months after the momentous incident, which undoubtedly influenced him deeply and determined the course of his life," he adds.
Panchkula-based historian Prof Malwinder Jit Singh Waraich says Udham Singh told the judge, Mr Justice Atkinson, during the trial: "When the shooting took place… I had gone to East Africa… I wasn't in India..."
Both scholars also reject the contention that he mistook O'Dwyer for General Reginald Dyer. In his book, 'Hanged at Pentonville' (2008), British crime historian Steve Fielding writes: "It was when he (Udham Singh) was questioned as to the motive that detectives believed it had been a case of mistaken identity… Singh had noted Dyer in his diary as 'O'Dyer', believing the speaker (at Caxton Hall) was the General." A similar assumption appears in Gordon Honeycombe's 1982 title 'Murders of the Black Museum'.
Dr Navtej Singh says there was no question of a mix-up as Dyer had died in 1927 (13 years before O'Dwyer's assassination), a crucial development Udham Singh couldn't have been unaware of.
There is also apparently no truth in the story that he had concealed his Smith and Wesson revolver in a big book before entering Caxton Hall on March 13, 1940. Talking to The Tribune, Paul Bickley, curator at the New Scotland Yard's Crime Museum, says, "We have with us his Belgrave pocket diary. It's far too small to hide a gun." Udham Singh's revolver and knife are also among the exhibits in this private museum. The UK Metropolitan Police have already turned down India's requests to return these items, saying that these are case properties.
---
Another book, film on the way
Shaheed Udham Singh is the subject of British journalist Anita Anand's book 'The Patient Assassin: A True Tale of Massacre, Revenge and the Raj', which will be published by Simon & Schuster UK early next year.
Bollywood director Shoojit Sircar ('Vicky Donor', 'Piku') is working on the revolutionary's biopic, which will reportedly have Irrfan Khan in the lead role.
The martyr was played by Raj Babbar in Chitraarth's 'Shaheed Udham Singh' (1999) and Parikshit Sahni in Balraj Tah's 'Jallian Wala Bagh' (1977). In both films, Udham Singh is shown as a survivor of Jallianwala Bagh massacre.
---
'He Never worked for O'Dwyer'
In its March 14, 1940, edition, UK's The Times newspaper reported that O'Dwyer was murdered by his chauffeur. This gave birth to the legend – which has survived to this day — that Udham Singh had worked in some capacity for his quarry. Roger Perkins contradicted the claim in his 1989 book, 'The Amritsar Legacy'. He asserted that Udham Singh had served as a chauffeur to a retired Indian Army officer, but "what he certainly did not do was to go anywhere near Sir O'Dwyer, a fact confirmed by the Irishman's family."
Top News
There are 3 concurring judgments, one each by CJI DY Chandra...
Leaders of PDP claim to be put under house arrest; restricti...
Police do not allow journalists to gather near NC president ...
Says, 'this is an attempt to spread rumours'
Soren has been asked to depose at the federal agency's offic...