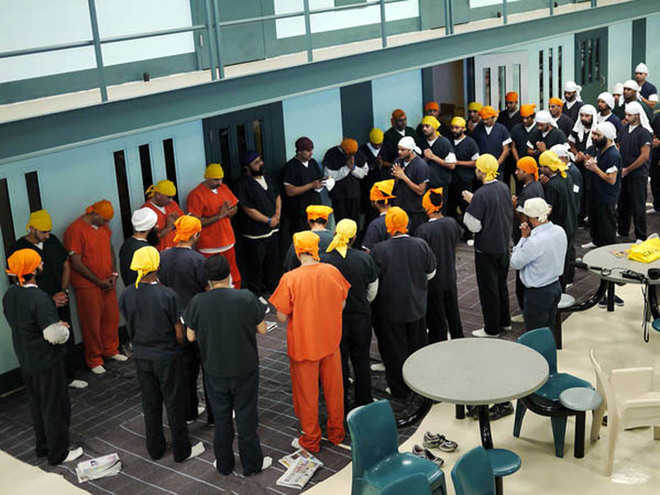 Aparna Banerji
Tribune News Service
Jalandhar, January 20
As many as 920 illegal Indian immigrants continue to languish in US jails.
The North American Punjabi Association (NAPA), received this information from the US Customs Department last year through the Freedom of Information Act.
Talking to The Tribune, Satnam Singh Chahal, president of the association, said, "US Immigration and Customs Enforcement recently revealed that there were 920 Indian detainees who were apprehended at the US borders at various places and a majority of them were Punjabis and victims of illegal human trafficking."
As many as 22 Punjabi youths were released from a jail in Miami in August 2015. Similarly, 68 Indians, again Punjabis, were confined at the Immigration and Customs Enforcement's detention centre at Tacoma (Seattle) in Washington.
Information received by NAPA in August 2014, under the Freedom of Information Act also revealed that 93 people with surname Singh and Kaur were lodged in US jails. Out of these, 84 were non-criminal immigrants and nine convicts.
Of these 93 persons, 34 detainees were lodged at the Eloy Federal contract facility, 19 at the El Paso Service Processing Centre, 10 in the Utah County Jail, eight in the Florence Correctional Centre, Arizona, five at the Wackenhut Correction Corporation, four in the Central Arizona Detention Centre, three in the northwest detention centre, two in the Yuba County Jail and a few more in other detention centres, according to figures available with the NAPA, he added.
Pointing out to the trail of illegal human smuggling from Punjab to United States, NAPA also wrote to the Punjab State Human Rights Commission in 2014. Highlighting the problems faced by the inmates of El Paso Centre in Texas, it provided details and numbers of the kingpins responsible for the illegal trafficking to the commission.
Submitting the contact information of the kingpins for investigation and nabbing them, the association demanded the recovery of amount the agents had charged from such youths. As per information, the detainees at El Paso were duped of $60,000 by the agents.
The kingpins included Amrinder Singh Gill alias Raja from Patiala (with his India and Patiala numbers), Sukhvinder Singh Sukhi and Charnjit Singh Charna from Ludhiana.
Information on three persons involved in illegal trafficking — Teji (from Stockton, USA) and Hukam Singh and Malkit Singh (both in the US) — had also been provided to NAPA. However, since they were operating from the US, their names were not divulged in the letter sent to NAPA.
Chahal said, "While I had provided the information about the kingpins responsible for the crisis that detainees at the El Paso found themselves in, I haven't heard of any action against them."
"If the Indian government doesn't act on the issue soon, there are all possibilities of the crisis escalating. A repeat of Malta and Panama boat tragedies cannot be ruled out," he warned.
"The government should also create a special fund for exigencies related to illegal immigrants and Manpower Export Corporations which would help youth secure jobs abroad legally," he added.