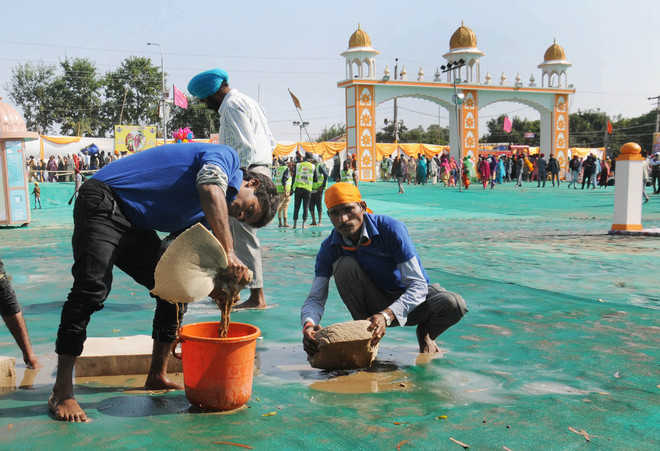 Deepkamal Kaur
Tribune News Service
Sultanpur Lodhi, November 8
After yesterday's rainstorm hit the arrangements for the 550th Guru Nanak Parkash Purb in the holy town, the organisers started working since early Friday morning to put things back in order.
The arcades, flexes, multiple entrance gates that had fallen due to strong winds were removed from the sites. The water that had collected on the top of the tents was removed using brooms and buckets. The mattresses and carpets in the tent city, which became wet last evening, were kept for drying during the day.
Trucks loaded with soil were arranged so as to spread it in all low-lying areas which had turned muddy and slippery since yesterday. The ground in Guru Nanak Stadium where the SAD-SGPC pandal is being set up had turned into a swamp even as Union Minister Parkash Javadekar was to open an exhibition here this afternoon. Here too, a new layer of earth was spread so as to make it convenient for walking.
The organisers for the state government even had to arrange planks and shuttering material so as to make a new passage over muddy ground for the devotees to cross over to the pandal to attend religious programmes. The employees of a house-keeping company, hired by the government, used thick sponges to soak the rainwater which had been collected on the mats.
The volunteers at various langar sites, who had left the area after the storm hit last evening, came back today.
As the sun shone bright today, it brought much relief to the administration. However, vehicles continued to get stuck up in parking lots in low-lying areas. The state government's OSD for the programme Navneet Bal said, "We certainly faced some problems last evening, but our teams are working overtime to restore things."
Top Stories