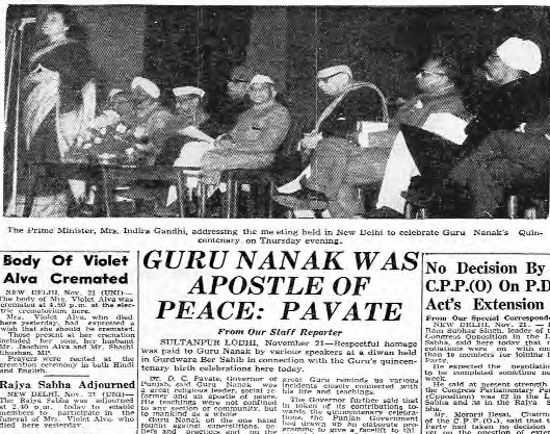 Vishav Bharti
Tribune News Service
Chandigarh, November 27
It was 49 years ago that access to Gurdwara Kartarpur Sahib was first envisaged by the powers that be. In 1969, during Guru Nanak Dev's 500th birth anniversary celebrations, the then Prime Minister Indira Gandhi had promised the state government that land-swap would be done with Pakistan for the purpose.
The need for access to the gurdwara was felt soon after Partition. The Guru had spent his last days at Kartarpur Sahib. The shrine housed a 'bir' of Guru Granth Sahib, which had been dictated by Guru Arjan Dev and written by Bhai Gurdas.
As per a report published in The Tribune on January 4, 1948, the Akali Dal, during a conference in Patiala, passed a resolution demanding immediate resolution of the dispute between India and Pakistan over the land of gurdwaras at Nankana Sahib and Kartarpur.
Amid refusal of visas to Sikh pilgrims to visit gurdwaras in Pakistan, the Shiromani Gurdwara Parbandhak Committee and the Chief Khalsa Diwan insisted that India should get back the gurdwara land. Prior to the India-Pakistan border discussion on December 21, 1959, the Chief Khalsa Diwan, in a letter to the Prime Minister, reiterated the demand. However, the Congress government in Punjab had written to the Centre that "it was not advisable to modify the boundary fixed on the basis of the Radcliffe Award."
About a decade later, Indira Gandhi said the Centre would approach the Pakistan Government for exchange of Kartarpur Sahib with an adjoining Indian area. The Prime Minister also gave an assurance on granting free visas for visitors to Nankana Sahib.
Over the years, visa-free access became the new demand. In view of hostilities between India and Pakistan, the dream of free access faded away. It got an impetus around 15 years ago, when the idea of building a corridor was floated. Akali leader from Jalandhar Kuldeep Singh Wadala was approached by Sikhs from Gurdaspur. "The gurdwara was virtually abandoned till 2003. It served as a cattle shed for the villagers and the land was occupied by mujharas (sharecroppers). US-based Dr Pritpal Singh, along with my father and others, played an important role in getting the building restored and convincing the Pakistan Government," said Kuldeep Singh Wadala's son and Akali MLA Gurpartap Singh Wadala.
Top Stories