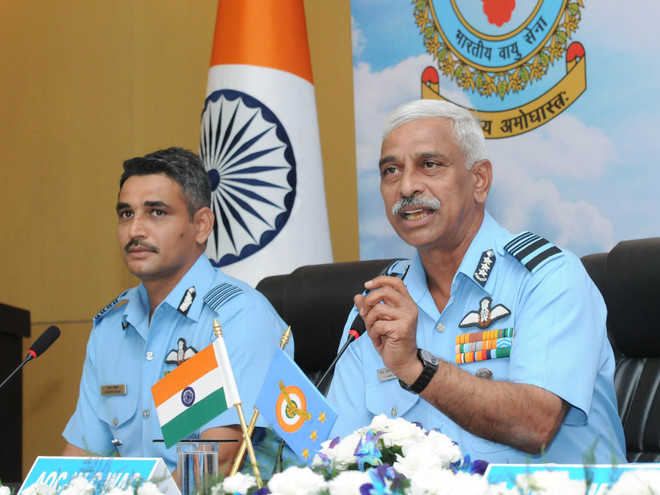 Deepkamal Kaur
Tribune News Service
Adampur (Jalandhar), Nov 11
The Centre has given the go-ahead to the Indian Air Force (IAF) for installing the integrated perimeter security system at airbases across the country. This was stated here today by Air Marshal C Hari Kumar, Air Officer Commanding in Chief (AOC-in-C), Western Air Command.
He said the huge peripheral area of these IAF stations would be guarded by CCTV cameras and motion sensors. "Since it is a major contract, the equipment will be installed on priority at airbases with a high level of vulnerability, such as Pathankot. At the bigger stations, we have peripheral roads of 24-26 km and 3 km of runways where these installations would be done," the AOC-in-C said during a media interaction.
The Air Marshal said, "We are removing wild growth beyond the airbase perimeter walls on a regular basis. It's a cause of concern that expanding towns have come very close to IAF establishments."
On the scheduled launch of the civil airport at Adampur from December 1, the AOC-in-C said the IAF was helping the state government in its Udaan project. "There is a plan to extend the services from Adampur, Hindon and Pathankot airbases," he said.
President's visit on November 16
President Ram Nath Kovind is scheduled to visit the Adampur IAF station on November 16 for awarding the President's Standard to 223 Squadron and 117 Helicopter Unit. He will also release the first day cover of the squadron and the helicopter unit. Air Chief Marshal BS Dhanoa, Chief of the Air Staff, and other officers are expected to attend the ceremony. Invites have also been extended to the Punjab Governor and CM.
Top Stories