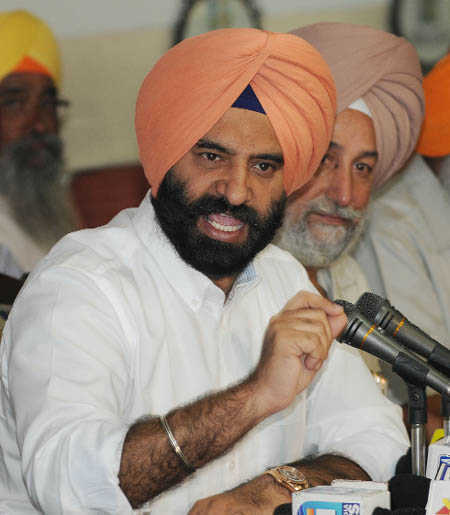 Aditi Tandon
Tribune News Service
New Delhi, December 13
Congress president Rahul Gandhi tonight cleared the appointment of Kamal Nath as Chief Minister of Madhya Pradesh despite threats of agitation by the Akali Dal and BJP should this happen.
Akali Dal leader Manjinder Sirsa led the charge against Nath this morning raking up the Congress veteran's alleged involvement in the 1984 anti-Sikh riots.
The Congress went ahead with Nath on grounds he has never been charged in a court of law. The SAD-BJP, however, vowed mass agitations today as the news of Nath being made CM became clear.
"We will teach the Congress a lesson. I appeal to all Indians and Sikhs to join us in this fight. What Congress has done is rubbed salt in the wounds of Sikhs. This is shameful," Sirsa said tonight.
Akali Dal spokesperson and Delhi Gurdwara Management Committee general secretary Sirsa again attacked Congress president Rahul Gandhi, asking: "What was Kamal Nath doing outside Gurdwara Rakabganj Sahib during the 1984 Sikh Carnage days? I want Rahul Gandhi to answer."
The matter pertains to the alleged presence of Nath, then an upcoming MP from Madhya Pradesh, at Gurdwara Rakabganj near Parliament where two Sikhs were burnt alive in revenge killings that followed the assassination of former Prime Minister Indira Gandhi on October 31, 1984.
Although public spotlight in context of anti-Sikh riots has always been on two former Congress MPs Sajjan Kumar and Jagdish Tytler, Nath's alleged role has neither been probed nor proven.
It has, however, been documented in books and magazines of previous times which spoke of the presence of Nath at the gurdwara where two Sikhs were burnt alive.
"Outlook magazine detailed the presence of Kamal Nath at the scene of the killing and the then police commissioner acknowledged the presence on record. But the surprising part is the Gandhi family was saving Kamal Nath then. It is saving Kamal Nath now. There cannot be a bigger travesty of justice than protecting and promoting a man like Kamal Nath. Sikhs will never tolerate this," he said.
On a question about no case being filed against Nath, Sirsa said: "There is a witness against Kamal Nath and the Delhi Gurdwara Management Committee had written to the Special Investigation Team to lodge a case and examine the witness." Sirsa urged Punjab Chief Minister Capt Amarinder Singh to quit over the naming of Kamal Nath as the Chief Minister.
The momentum against Nath comes at a time when Delhi's local courts have begun delivering justice in long pending cases of the killings of Sikhs in 1984. Delhi's Patiala House Court recently handed over death sentence to convict Yashpal Malik in a 22-year-old case of murder of two young Sikhs in Delhi's Mahipalpur and life sentence to Naresh Sehrawat in the same case.
Delhi High Court's judgment on CBI's appeal against the acquittal of Sajjan Kumar in a case involving the murder of five Sikhs of a single family near Delhi airport area is expected anytime now.
The ghost of anti-Sikh riots had come to haunt Nath in January 2016 also when Congress had to drop him as AICC general secretary in charge of Punjab. But this time the Congress didn't budge on Nath.
Top News
Polling began at 8 am and will continue till 5:30 pm
Navy Day: Looking to procure long-range drones, says Admiral
Discuss Russia-Ukraine war, highlight emerging security chal...
Ph-2 Asks voters to turn out in large numbers