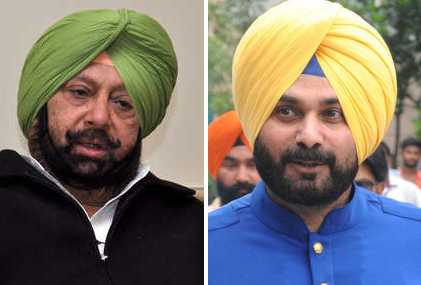 Sanjeev Singh Bariana
Tribune News Service
Chandigarh, November 25
Citing continued terrorist attacks in Punjab and the killing of Indian soldiers by Pakistan troops at the LoC, Punjab Chief Minister Capt Amarinder Singh today turned down the Pakistan Foreign Minister's invitation for the stone-laying of the Kartarpur corridor on November 28.
His Minister for Tourism, Cultural Affairs and Museums Navjot Singh Sidhu, though, will be flying to Pakistan to attend the "ground-breaking ceremony" by Pakistan Prime Minister Imran Khan. Talking over phone from poll-bound Madhya Pradesh, where he is campaigning for the Congress, Sidhu said: "I have the permission of the CM and have informed the Ministry of External Affairs, as required."
In a letter to the Pakistan Foreign Minister, Sidhu wrote: "On this momentous day, the hearts of the Sikh community will overflow with hope and gratitude as they contemplate their chance to pay obeisance at the historical gurdwara."
Capt Amarinder welcomed the "historic occasion" but said he could not make it. He expressed hope that the Pakistan PM "will do all he can to bring the countries together on the road to peace".
To islamabad: can't go, because...
"Not a day passes when Indian soldiers are not killed or wounded on LoC; secondly, because of ISI's nefarious activities in Punjab" Capt Amarinder Singh
Ray of hope for boosting ties, says Sidhu
"I had sought the CM's permission for a cause. I see it as a ray of hope for boosting India-Pakistan ties. I will attend the state function in Amritsar too." Navjot Singh Sidhu