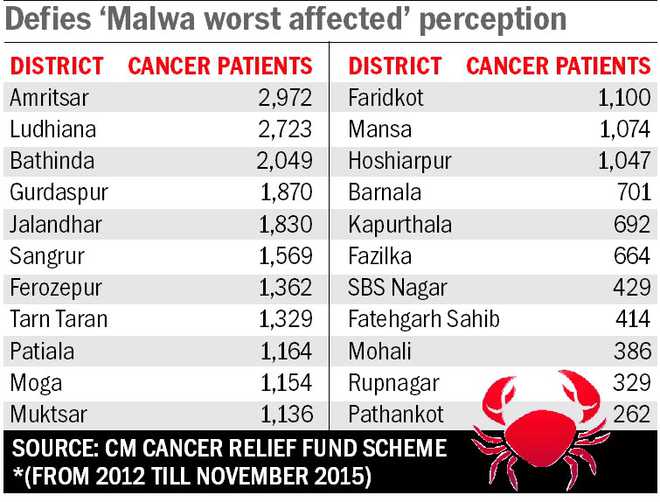 Amaninder Pal
Tribune News Service
Chandigarh, December 13
Contrary to the perception well established by social groups and political parties over the years, the only comprehensive available data of under-treatment cancer patients has revealed that Malwa — the cotton belt of south and south-west Punjab — is not the worst-hit region by cancer in the state. Rather, Amritsar and Ludhiana are worst-affected districts.
Of the five districts that have the highest number of cancer patients, two are located in Majha, one in Doaba and one (Ludhiana) in central Punjab. There is only Bathinda district among top five that can be regarded as a part of classical Malwa belt of Punjab.
Despite decades of hue and cry over the issue, any comprehensive data on cancer patients is still non-existent in Punjab. The only comprehensive available authentic data is of those "under-treatment" patients, who, since 2012, are availing financial help being provided under the "Chief Minister Cancer Relief Fund" scheme.
As the scheme is open for all cancer patients, except government employees, experts opine that the data thrown by it largely presents a fair picture of disease spread.
"The data available with us shows that the Malwa region is not the worst-affected cancer region. The disease is evenly spread in Punjab. However, nobody in the government set-up is ready to convey it to the political class as Malwa vis-à-vis cancer discourse has been strongly set in," said a senior Punjab health official.
Experts monitoring the data say the pattern of cancer prevalence is much similar to other diseases – number of patients is high in the district where population is high.
"That's why top 10 cancer-hit districts also top the list population wise. It is simple. Trend showing the region specificity is missing," said an expert monitoring the data.
Barring Moga, which is at the 11th slot population-wise, all other top 10 cancer-affected districts also occupy top 10 slots demographically according to the Census 2011.
Dr MS Bal, former professor of pathology, Government Medical College, Patiala, who was principal investigator of the Indian Council of Medical Research's (ICMR) cancer registry programme for over four years, said, "No study has so far proved that cancer incidence is extremely high in Malwa. Problem is in all districts of Punjab and it is both due to genetic reasons and environmental factors."