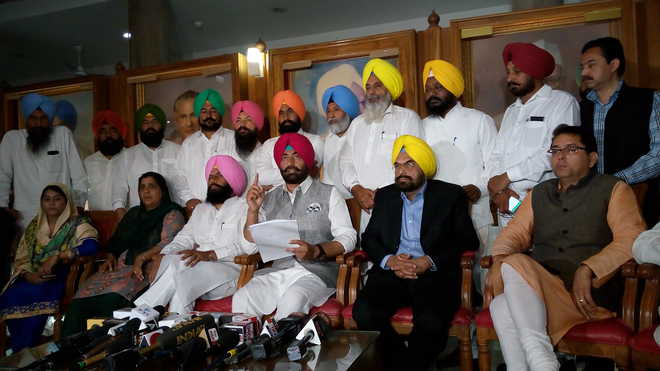 Tribune News Service
Chandigarh, March 16
The Aam Aadmi Party (AAP) unit of Punjab on Friday accused said party convener Arvind Kejriwal of becoming "weak", a day after the latter apologised for his drug trade allegations against former minister Bikram Singh Majithia.
At a press conference that saw the several leaders of AAP's Punjab unit come together to condemn Kejriwal's apology, party leader Sukhpal Singh Khaira claimed that the apology was a unilateral decision that raised questions about what transpired between the AAP convener and Majithia's Shiromani Akali Dal.
"All of us in Punjab are saddened to learn how Kejriwal ji has went to apologise to Majithia when state government's Special Task Force has submitted in High Court that there is strong clinching evidence against him," AAP leader Sukhpal Singh Khaira, flanked by several leaders of the party, said at the press meeting.
"In such circumstances, Kejriwal's apology was painful, very unfortunate. It is like our big leader while showing psychological weakness, has surrendered," Khaira said, adding that the party would have to now "convene and review the situation".
AAP's Member of Parliament in Rajya Sabha Sanjay Singh said the party was deeply disappointed with the decision.
"Many people are unhappy with Arvind Kejriwal's apology to Bikram Singh Majithia. I hope justice is done, because people like BS Majithia deserve to be in jail," Sanjay Singh said.
Earlier in the day, 20 lawmakers— including two from Lok Insaf Party—held a meeting to decide their next course of action.
AAP MLAs also discussed possibility of separating from the Delhi unit in the wake of Kejriwal's apology.
"But no consensus was achieved on breaking away as many MLAs felt that views should be taken from volunteers and constituents before taking any further decision. Therefore we have deferred taking a decision," AAP MLA Kanwar Sandhu told reporters.
AAP leader Bhagwant Mann, who resigned as the party's Punjab chief, was away in Delhi, but would abide by any decision the Punjab unit took, as would senior leader HS Phoolka, Sandhu said.
The press briefing came within hours of the party's Punjab unit chief Bhagwant Mann putting in his papers.
Within hours of the press conference, AAP's co-president Aman Arora, who on Thursday voiced his disappointment at Kejriwal's apology, stepped down from his position.

The allegations hark back to 2016 during his campaign for assembly elections, when Delhi Chief Minister Kejriwal accused Majithia of being involved in drug trade. Majithia charged Kejriwal, and another AAP leader Ashish Khetan with criminal defamation. Majithia promised to withdrew his case against Kejriwal after the apology.
The apology has seen widespread condemnation within Kejriwal's own party. Senior party leader Kanwar Sandhu, a member of legislative assembly from Kharar, took his displeasure at Kejriwal to Twitter.— With agencies
Top Stories