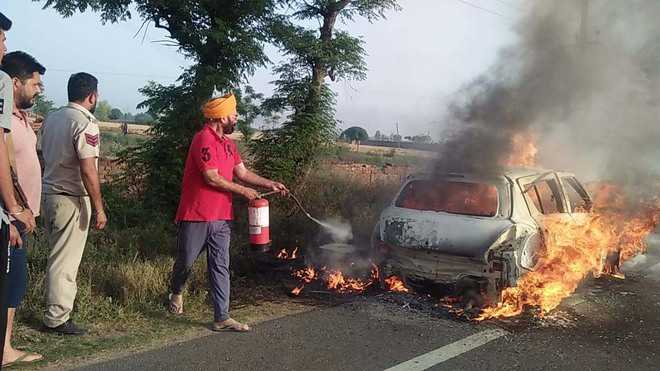 Our Correspondent
Raikot, April 27
A commission agent who was a former sarpanch of Hissowal village in Ludhiana district was charred to death after the Swift car he was travelling in caught fire on the Raikot-Mullanpur road near Raqba village on Saturday morning.
Harnek Singh (65) was going to the grain market to oversee procurement at his shops when the incident took place. Though the exact cause of fire is yet to be ascertained, it is suspected that sparking in electric circuits triggered the fire which did not allow the occupant to even open the window.
Though the Dakha police reached the site promptly, the fire could not be extinguished as no fire brigade reached the spot. The cops had to borrow a fire extinguisher from a nearby petrol pump.
Investigations revealed that the car had caught fire when it was at a reasonable speed. Sensing danger, Harnek had stopped the car on a roadside, but could not come out as the locks did not open. He first tried to open the window of his side and then the opposite side when he collapsed.
The windy weather spread the fire which engulfed the vehicle, leaving no chance for rescue, said sources. The deceased had returned from Canada two days ago. His son Harpreet Singh is currently the sarpanch of the village.
Top News
The hunt for Amritpal enters the third day on Monday as the ...
IG Sukchain Singh Gill said Amritpal is also likely to be bo...
Internet services were suspended in the state on March 18 fo...
Amritpal's driver, uncle arrested
The officials say even immigration authorities at internatio...