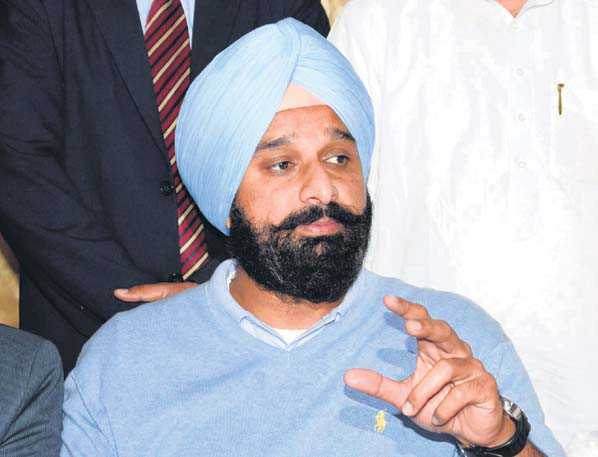 Vishav Bharti
Tribune News Service
Chandigarh, August 5
Leaders of the Shiromani Akali Dal, the party which has done politics on the idea of federalism for five decades, were seen a little jittery on Monday on the issue of the Union Government's decision to scrap the Article 370 of the Constitution that grants special status to Jammu and Kashmir. The leaders were escaping from reacting on the issue during the session throughout the day.
Former state Cabinet ministers Bikram Singh Majithia and Parminder Singh Dhindsa addressed a press conference on Monday afternoon at the Punjab Vidhan Sabha, but when they were asked about the scrapping of the Article 370, they refused to comment expressing ignorance on the issue. Even the attempts to get reaction from top leaders, including Akali Dal patron Parkash Singh Badal, party president Sukhbir Singh Badal and his wife and Union Minister Harsimrat Kaur Badal, remained futile.
The irony of the party, which has always done politics of 'regional autonomy' and 'federalism', is that it supported 'the biggest attack on federalism' exactly on the 50th anniversary of its first resolution supporting federalism.
The SAD's moved the first resolution on federalism in September 1968 during the party's 'Batala Conference', which was considered precursor to Anandpur Sahib Resolution of 1973. In the conference, the SAD demanded 'correction' of the Constitution of India on a correct federal basis and that the states should have greater autonomy. Demanding changes in the Constitution, it also appealed to "the state governments to raise their voice to protect and safeguard their right so that the country may be able to go smoothly on the federal system."
Five years later, the Akali Dal reiterated its the demand as mentioned in the Anandpur Sahib Resolution of 1973, when besides many other demands, they sought greater autonomy for the states.
But the party's top leadership's support to the Union Government's decision to scrap the Article 370 of the Constitution on Monday is being seen as a new low in the party's history.
"From the day the Badal family took over the reins of the Akali Dal, the party has hit one low after the another. Unfortunately, the Badal family, to serve its personal interests, has trashed the ideology and principles of the Akali Dal politics," alleges veteran journalist Jagtar Singh.
Advocated greater autonomy for states
1968: Shiromani Akali Dal (SAD) passed a resolution in support of federalism in Batala Conference
1971: After defeat in the Lok Sabha elections, Badal called for a bigger struggle for more autonomy
1973: Anandpur Sahib Resolution demanded greater autonomy for the states
1978: In Ludhiana conference, party demanded 'right of secession' to constituent units.