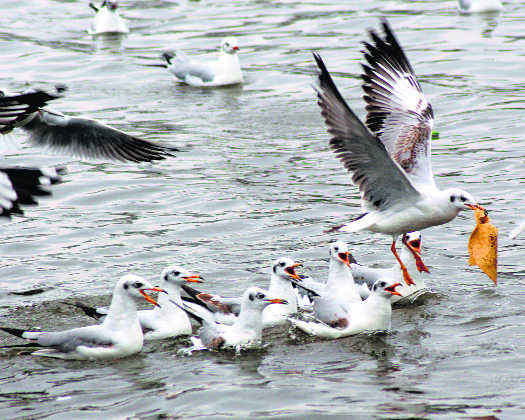 Tribune News Service
Chandigarh, March 4
With more than 1.25 lakh winged guests thronging Punjab's four wetlands, the number of migratory birds arriving in the state remained consistent this season.
According to a census of migratory birds carried out by the state Department of Forests and Wildlife, more than 90 species of migratory birds were found in the wetlands. The birds start arriving in November and stay here till the end of February.
At Harike wetland — the largest wetland in the state and spread over 10,000 acres — a total of 94,771 birds of 93 water-dependent species were recorded.
Among the birds, the highest were the common coot, numbering around 55,000. Greylag geese, gadwall, common pochard and northern shoveller were also found in significant numbers.
At Harike, some interesting birds that were sighted were rufous-vented chachalaca, prinia, penduline tit, babler etc. The bird census was conducted on January 27 and 28 by 16 bird watchers and the Ferozepur Wildlife Division.
Harike was followed by Keshopur wetland in Gurdaspur. It is spread over 850 acres and is the second largest wetland in the state. It hosted more than 21,000 birds of 75 different species.
At Keshopur, the most common migratory birds were Eurasian coot, which were around 3,500. Common moorhen, gadwall, rudy shelduck, bar-headed goose, glossy ibis, common teal, northern shoveller and common crane were also found in large numbers. The important species that were spotted at Keshopur included Asian openbill, wooly-necked stork, painted stork, black-headed ibis, ferruginous duck, Brahminy kite, western osprey, northern lapwing and water rail.
Similarly at Ropar wetland, more than 4,500 migratory birds of 65 species were counted. Ruddy shelduck, common coot, red-crested pochard, spotbill duck and gadwall were the common species.
At Nangal wetland, more than 3,700 migratory birds of 36 species were spotted. Common coot and gadwall were in large numbers. According to wildlife experts, the number keeps on varying depending upon climatic conditions.
Kuldeep Kumar, Principal Chief Conservator of Forests (Wildlife), said that the department is chalking out plans for Keshopur and Harike wetlands.
In January, Cultural Affairs and Tourism Minister Navjot Singh Sidhu had announced that next year, a "World Photography Contest" would be held at the wetlands. The Tourism Department has also planned eco-friendly towers for wildlife photographers and bird lovers.
Know the wetlands
There are 53 wetlands in the state
Two — Nangal and Ranjit Sagar — are of national importance
Three wetlands Harike, Kanjli and Ropar are recognised under Ramsar. Six others are of state importance
The remaining 42 are small wetlands
The birds in Punjab's wetlands generally come from the western Himalayas, Central Asia and Siberia
---
Bird arrivals per year
2016

1.4 lakh
2017

1.25 lakh
2018

1.25 lakh
Top News
Rescue workers break through the 60-metre stretch of rubble ...
Education dept issues the dismissal orders following approva...
To hold a meeting in Hisar to decide their next course of ac...
Set to meet Governor Banwarilal Purohit
Sikhs of America says gurdwaras are places of worship and sh...