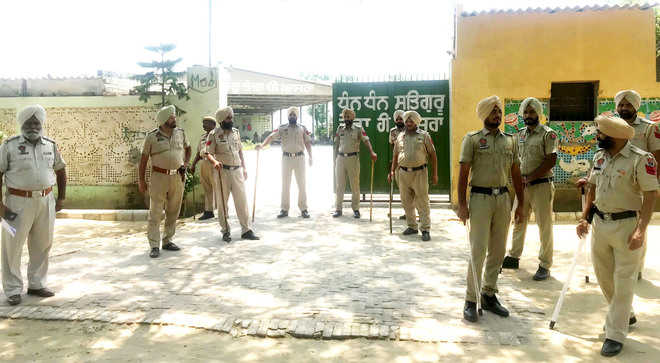 Karam Prakash
Tribune News Service
Patiala, June 23
The circumstances and timing of the murder of Mohinder Pal Bittu, main accused in the Bargari sacrilege incident, has put Nabha jail authorities in the dock.
They are being questioned as to why Bittu was not produced in the Faridkot sessions court on June 14, as per schedule. Thereafter, the judge had issued a production warrant and told the officials to bring him to the court on July 1. But, he was killed on Saturday, days before his court appearance.
Jail Superintendent Balkar Singh Bhullar said: "Bittu was not taken to the court as we didn't have sufficient police force on the day of hearing to escort him."
Though four jail officials have been suspended, including the Assistant Jail Superintendent, and the Chief Minister has ordered a fact-finding inquiry into the incident, Bittu's family is alleging involvement of jail officials in the incident.
Dera followers in Nabha have also questioned the professional morality of jail officials. Sources suspect that iron rods with which Bittu was attacked may have been pulled off the barrack by one of the accused, Maninder Singh, as he had worked as an ironsmith in the past.
A resident of Badali Ala Singh village in Fatehgarh Sahib, Maninder is an undertrial in the 2015 murder case of a retired Armyman. Gursewak Singh, is serving life imprisonment in the 2014 murder case over an altercation at a car service station. He was shifted to Nabha jail from Patiala Central Jail in November 2018, two months before Bittu was sent to the same jail in January 2019.
Meanwhile Jails Minister Sukhjinder Singh Randhawa said strict action would be taken against officials if negligence was found on their part. He said Bittu and the two accused had different pathways to move around in the jail, but for the last couple of days, due to ongoing construction, they had to use some common pathways.
---
Duo in four-day custody
The Nabha court has remanded accused Maninder Singh and Gursewak Singh in police custody for four days until June 27
They have been booked under sections 302 (murder), 120-B (conspiracy), 34 of IPC
Patiala Range IG AS Rai said: "We are studying jail records to know who the accused were in touch with recently. They will be grilled before being produced in court."
---
He died of head injury
Mohinder Pal Bittu, who was attacked with iron rods by jail inmates, had died due to serious head injuries, revealed the autopsy report
The post-mortem was conducted by a three-member board of doctors under the supervision of magistrate around 4 am
"Bittu had serious head injuries and his skull was fractured," a doctor said. The IG said there was no mention of stabbing in autopsy report
Top News
Voting for final phase of Gujarat polls ends, counting of vo...
Ahmedabad has recorded the lowest voter turnout of 44.67 per...
The Delhi govt opposes the Centre's plea saying it will only...
This comes as a major embarrassment to CM Bhagwant Mann who ...
According to CCTV footage, the two men enter the gurdwara an...