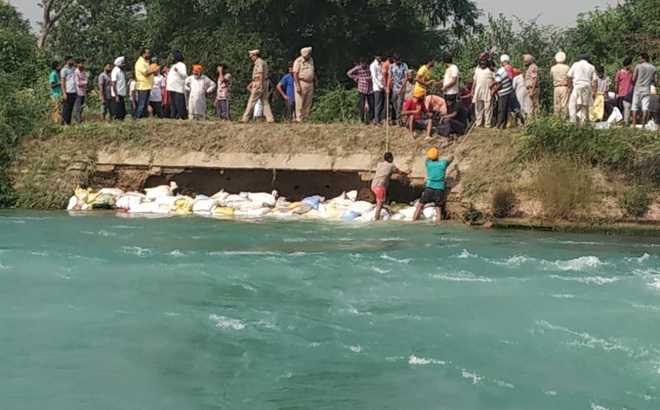 Our Correspondent
Fatehgarh Sahib, October 13
Morning walkers saved the situation from taking an ugly turn as they noticed a breach in the embankment of Bhakra canal in Sehjadpur village. They rushed to the village gurdwara and raised the alarm, requesting people of adjoining Khanpur, Harlalpur and Dera Mir Miran villages to rush to the spot to plug the breach.
Within minutes, a large number of villagers reached the spot and initiated work to breach the same as strong water current was widening the breach.
Villagers succeeded in plugging the breach by placing sandbags. They also informed the district administration following which Fatehgarh Sahib Tehsildar Gurjinder Singh and DSP Raminder Singh Kahlon reached the spot and helped villagers carry out the work.
While talking to mediapersons, villagers said the poor condition of the canal embankment had been causing panic in the surrounding villages as a breach could inflict a great damage on life and property.
They said they had been informing the district administration about the dilapidated state of the canal embankment, but to no avail.
Tehsildar Gurjinder Singh said irrigation officials had been informed to initiate repair work immediately.
Top News
Odisha government has issued helpline 06782-262286. The rail...
At least 50 people died and 350 were injured in a three-way ...
12837 Howrah-Puri Superfast Express, 12863 Howrah-Bengaluru ...
WFI chief demanded sexual favours in lieu of supplements and...
Said agitation will be intensified by holding panchayats acr...