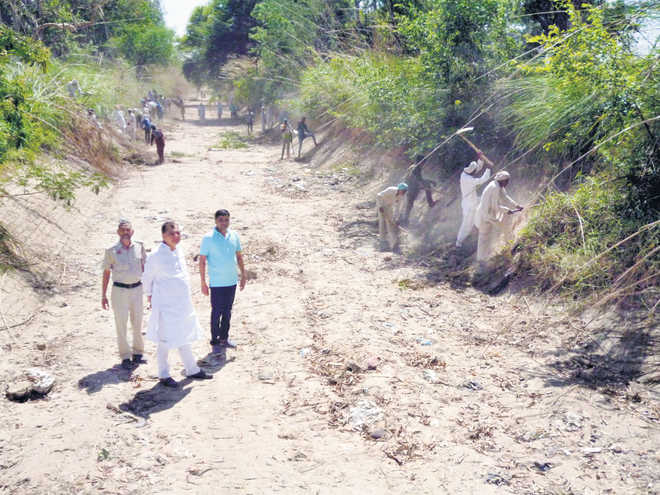 Praful Chander Nagpal
Fazilka, April 22
The sowing of cotton began on April 15 and will continue till May 15 in Fazilka district. But due to the scarcity of canal-based irrigation water, farmers are facing a tough time.
As the brackish subsoil water is not fit for irrigation, the majority of border area farmers whose land falls at the tail-end of the non-perennial canal system are largely dependent on canal water.
The delay in the cleaning of canals has worsened the situation. "The department should immediately release the water after repairing the water outlets and allow the water to flow to the tail-end of the canals. Every farmer should get his allotted share without any prejudice," demanded Hardip Dhaka, sarpanch of the last border village Khanwala.
Upset over the slow speed of repair and cleaning of the distributaries of the Southern Branch Canal due to financial crisis, the villagers have constituted a farmers committee on canal water headed by former Fazilka MLA Dr Mohinder Kumar Rinwa.
Dr Rinwa told The Tribune that 12 affected villages, including New Lakhewali, Kheowali and Bandiwala, had collected about Rs 7 lakh and pressed labourers — along with MGNREGA labourers provided by the district administration — into service to clean the Southern Branch Canal and its distributaries.
Dr Rinwa said that on taking a round of the canals, it was noticed that some farmers at Chahlan, Shajrana and Kheowali villages had installed pumps on the canals illegally. These need to be removed.
The worst-affected cotton belt villages are Khanwala, Kabulshah, Kerian Murawala, Sivana, Bareka, Roopnaar, Shahtirwala, Tillanwali, Lakhewali Dhab and Hiranwali. Executive Engineer, Irrigation, Dalbir Singh Dhaliwal said that water would be released in the canals from June 1. He said that a team of officials has been directed to get water outlets repaired soon.
Top News
Had complained to PM Modi about the activities of Brij Bhush...
Section 124A of the Indian Penal Code dealing with sedition ...
The postings and transfers of the officers have been made on...
Singh, in a Facebook post, said he has postponed the 'Jan Ch...
The representatives of various khaps and farmers' outfits re...