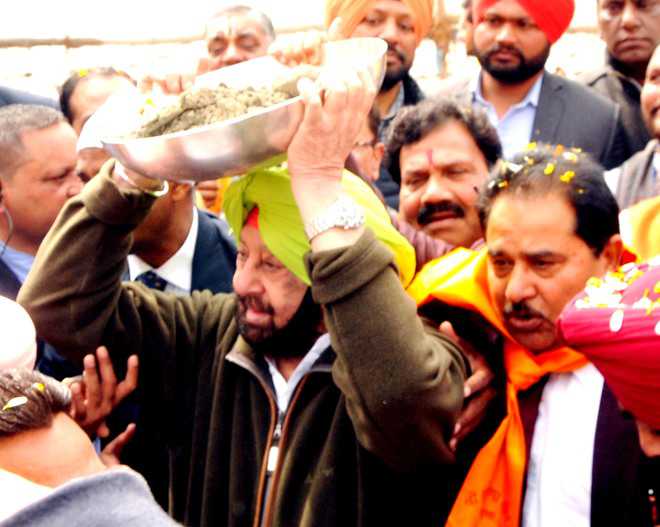 Tribune News Service
Amritsar, March 4
Chief Minister Capt Amarinder Singh today initiated kar sewa to clean the sarovar of Durgiana Temple. This is the third such project initiated to clean the sarovar wherein lakhs of devotees from around the world are expected to participate. The earlier ones were held in 1975 and 1999.
The CM announced a grant of Rs 1 crore for the temple's development and assured the management that their demand for land for expansion would be looked into.
Later, the CM laid the foundation stones of three surface water supply schemes, in addition to a domestic sewage treatment plant, for a total of Rs 197.69 crore for rural areas of Amritsar.
Terming Punjab's water situation as precarious, the CM underlined the responsibility of the state to save water for the coming generations. He announced upgrading the sub-tehsil of Lopoke and a new degree college for Chogwan.
Launching a canal-based water supply projects worth Rs 154.15 crore, the CM said the schemes, with tapping point at Chiwindan Kalan in Chogawan block on the Upper Bari Doab Canal would help mitigate the problem of groundwater for 1.5 lakh people spread over 112 villages in four blocks in the region.
The project would be executed with assistance from World Bank on a design, build, operate and transfer basis, for which tenders have already been floated. The CM also laid the stone of an arsenic removal project for 102 villages of Amritsar worth Rs 21.97 crore. An ultra-modern water testing lab worth Rs 6 crore was also launched.
'Message loud and clear'
Whether IAF strikes killed one or 100, the message has gone out loud and clear that India will not let the killing of its innocent soldiers and citizens go unpunished. —Capt Amarinder Singh, Chief Minister