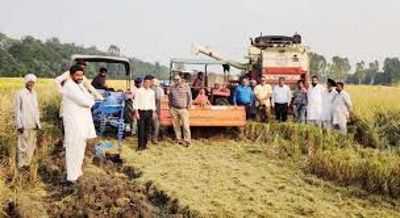 Perneet Singh
Tribune News Service
Kotfatta (Bathinda), Oct 19
A Central Farm Machinery Training & Testing Institute team, which visited this village to verify farm machinery banks set up to curb stubble-burning, could ascertain the existence of only one bank of a total of eight on their list. Even worse, local farmers at the grain market said they were not aware of any of these banks.
Gurjinder Singh said they were not aware of any farm machinery bank and the village only had a cooperative society. "We have been living here for years. There is only one cooperative society in the village which has no equipment to address the issue of stubble fires. It has tractors and other traditional farm equipment." He said he had roped in a private firm from Maur to dispose of the stubble, paying Rs 1,500 per acre.
Gurjant Singh said he had a combine machine to harvest paddy, which also took care of the stubble. Therefore, he doesn't need an equipment like Happy Seeder. "Some farmers have pooled in money to buy Happy Seeder, but they don't rent it out to small/marginal farmers," he said, claiming that the number of farmers burning paddy stubble was on the decline. BKU (Ekta Ugrahan)
leader from Kotfatta village Karnail Singh said there wasn't a single self-help group in the village offering farmers equipment on rent for paddy stubble management. "Though our village has 10 or 12 Happy Seeders, they are owned by big farmers.The others opt for a biomass plant at Khokhar village. They have to pay at least Rs 1,000 per acre for the same," he says.
In Tungwali village, that too had an "unverified" farm machinery bank, farmers said most farmers continued to set paddy straw ablaze despite the government ban. "We are not afraid of facing the music," said one of them. Another said the state government needed to show the intent to address the issue, but was merely paying lip service. "It should carry out trials of machines like Happy Seeder in every village and make it cost-effective. How can small farmers afford a machine worth Rs 1.5 lakh," asked a farmer.
Interestingly, in Maiserkhana village, where the team did verify a couple of farm machinery banks, the farmers were clueless about their presence. "Most farmers will burn paddy stubble as we can't afford to hire a machine for the job, particularly when the paddy yield has witnessed a decline this year," said locals Dharam Singh and Sohan Lal.
The Central institute's team had a list of 44 farm machinery banks in Bathinda district, mentioned as self-help groups or custom hiring centres (CHCs). However, it could verify just 10 out of 44, though the state Agriculture Department claimed that the team "had the wrong list".
Agriculture Secretary KS Pannu said the data with the team was wrong and that they had provided them with the correct list. "Subsidy, sent through direct benefit transfer (DBT), was extended to the CHCs after physical verification of the delivery of machine by officials," he maintained.