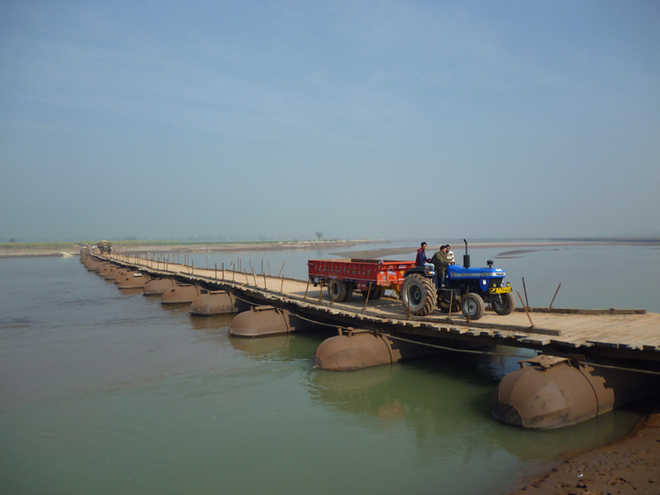 Ravi Dhaliwal
Tribune News Service
Gurdaspur, January 23
Hemmed in by the Ravi and Ujh rivers on two sides and wire fencing on the third, 3,500 inhabitants of an 'island', 20 km from here and a stone's throw from the International Border, live in appalling conditions.
Unlike many of their prosperous ilk who moved to the mainland after floods in 1988, these villagers live in penury.
The measure of their poverty can be gauged from the fact that they send their children to schools, not to study, but to ensure they do not sleep on an empty stomach.
The midday meal scheme in schools — two primary and one middle — provides the much-needed succor.
These villagers live in a cluster of nine hamlets. All exist in official records, but no government help seems to be coming. A major part of the island falls in the Dinanagar Assembly seat represented by Education Minister Aruna Chaudhury, while the rest is part of the Bhoa segment — one of the most backward constituencies in the state.
Internet connectivity is a far-fetched idea on the island and teachers do not attend schools for weeks. In a primary school at Lassian village, "temporary" teacher Shavana yesterday substituted for a regular mistress. Shavana is paid "salary" by the regular teacher to cover up for the latter's absence. Teachers claim this is a common practice.
A teacher said, "We have to travel between 40 km and 70 km to and fro from our schools. To make matters worse, when a 150-m pontoon bridge — the only link that connects the island with mainland —is dismantled from July to October when the two rivers in spate, our presence in schools depends on the boat that the Public Works Department presses into service to cross the Ravi. In any case, the boat ride is a treacherous one in the choppy waters, he said."
She further said, "Girls study till Class VIII and then drop out as parents are unwilling to send them to nearby towns. A high school is need of the hour but our voice is seldom heard."
Locals want a permanent bridge to be constructed, but Army officials rule out such a venture citing "security concerns". The only health sub-centre, located in Toor village, remains locked for a major part of the year. It is, however, mandatory for an Auxiliary Nurse Midwife (ANM) and an ASHA worker to be present every day.
"A nurse comes only when a vaccination drive is launched. Otherwise, the sub-centre remains locked," said Anuradha, who lives near Toor village. "Let Health Minister Brahm Mohindra come here and see things for himself," she said angrily. Civil Surgeon Dr Kishan Chand said he would look into the functioning of the health centre.
Top News
2 others eject safely I Debris strewn across miles I Sukhoi,...
Visit comes ahead of NSA chief's US tour
Union Ministers call it part of efforts to de-colonise, indi...