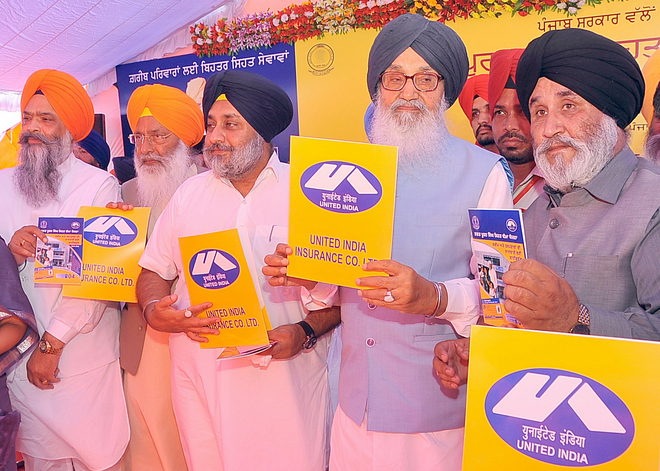 Tribune News Service
Ropar, October 2
Chief Minister Parkash Singh Badal launched the Bhagat Puran Singh Sehat Bima Yojna (BPSSBY), a cashless health insurance scheme for the poor. The scheme will cover 28.05 lakh BPL families, who will be given a facility of cashless treatment up to Rs 30,000 in 214 government and 216 empanelled private hospitals in the state.
He also inaugurated Ropar bypass, built at a cost of Rs 180 crore. With the opening of this road, commuters on the Chandigarh-Jalandhar road need not enter Ropar. The new route has been shortened by 3 km.
On the demands raised by local MLA and Education Minister Daljit Singh Cheema and local MP Prem Singh Chandumajra, Badal announced the strengthening and widening of the Ropar-Katli road linking about 25 villages. He also approved the construction of the Purkhali-Bardar road to link the industrial town of Baddi in Himachal Pradesh.
He announced Rs 34 lakh for development works in Bainsa village. The gesture is aimed at paying a tribute to 34 Akali Dal workers from the village, who had died in 1982 on the way to Dharam Yudh Morcha in a train accident.
Speaking on the occasion, Deputy Chief Minister Sukhbir Singh Badal said another cashless health scheme for farmers up to Rs 50,000 would be launched. All villages and towns would be provided basic amenities at a cost of Rs 10,000, he claimed.
Addressing the gathering here, the Chief Minister though maintained a calculated silence over the Aam Aadmi Party, he left no stone unturned in criticising the Congress. Replying to a query, he said AAP was no threat to the SAD-BJP alliance as it had lost its relevance due to the "misdeeds" of its leaders in Delhi.
Top News
Congress is in power in Rajasthan and Chhattisgarh, BJP is r...
BJP leading in 155 of 230 seats, Congress in 68
Counting of votes under way for 199 seats
Counting of votes in elections to 90-member Assembly began a...
Counting of votes in elections to 119-member Assembly starte...