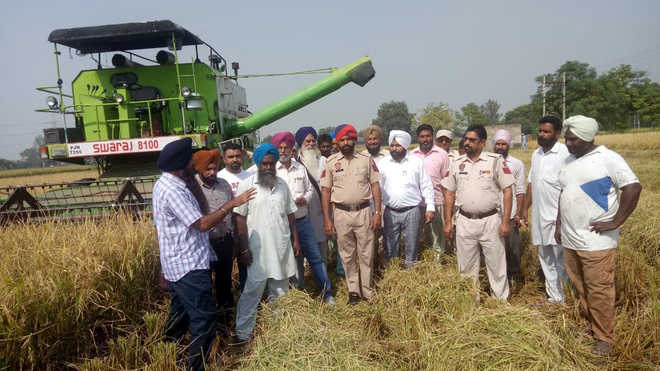 Kulwinder Sandhu
Tribune News Service
Moga, October 14
Agriculture officials today impounded a combine, which was being used to harvest paddy without using super straw management system (SSMS) at Bughipura village on the outskirts of Moga city.
Chief Agriculture Officer Dr Balwinder Singh and Plant Protection Officer Dr Jaswinder Singh Brar said the district administration had constituted special teams to check paddy harvesting by combines without SSMS and burning of stubble.
On Monday, the teams visited many villages of the district for surprise checking. At Bughipura village, a combine harvester bearing registration number PJN-7355, owned by a local farmer, Prem Singh, was spotted working without SSMS despite the fact that the machine was installed on it.
Officials said the machine was impounded as per the directions of the state government and prohibitory orders issued by the district magistrate. "We will take further legal action as per the law," they said.
Moga District Magistrate (DM) Sandeep Hans, while exercising powers vested under Section 144 of the CrPC, has ordered a complete ban on paddy harvesting combines without functional SSMS. He also ordered to impound the errants' machines.
The SSMS is a machine attached with a combine which cuts the standing paddy straw into small pieces and spread it uniformly in the field after which the farmers are not required to burn paddy straw before sowing wheat.
Meanwhile, the DM has also prohibited the harvesting of paddy using combines from 7 pm to 10 am.
Top News
Lhonak lake breaches banks after cloudburst, triggering mass...
About unifying the Armed Forces: A theatre command entails h...
Third party leader to be arrested | BJP says Kejriwal 'real ...