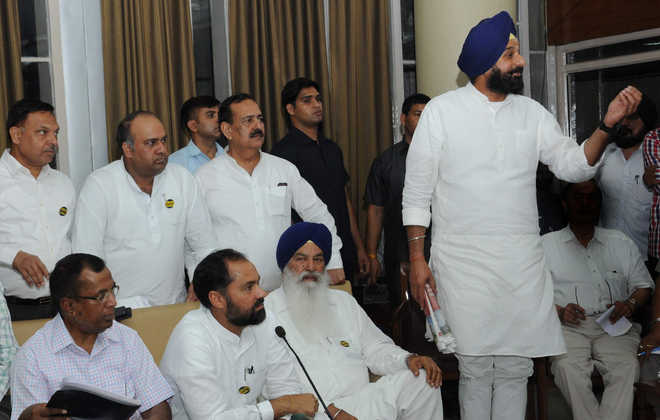 Ruchika M Khanna
Tribune News Service
Chandigarh, June 21
The Vidhan Sabha today witnessed a direct fight between Congress and the Akali-BJP legislators, while the main Opposition party, AAP, largely confined itself to the debate on the Budget proposals.
Akali Dal MLAs, led by party president Sukhbir Singh Badal, staged a walkout and the House had to be adjourned thrice, as Speaker Rana KP Singh played the peacemaker behind the scenes and asked the legislators to exercise restraint and let the House function. Following this intervention by the Speaker in his chamber wherein Sukhbir, Akali Dal MP Sukhdev Singh Dhindsa, Parliamentary Affairs Minister Brahm Mohindra, Finance Minister Manpreet Singh Badal and Rural Development Minister Tript Rajinder Singh Bajwa participated, some order was restored.
But barbs exchanged between the two sides were sharper, from using casteist slurs against an MLA to discussing the issue of sand and drug mafia – all in the name of general discussion on the Budget proposals.
As the SAD-BJP MLAs targeted Local Bodies Minister Navjot Singh Sidhu and Manpreet, the treasury benches, led by Sidhu and Fatehgarh Sahib MLA Kuljit Nagra, gunned for Sukhbir and Majitha MLA Bikram Singh Majithia.
By the end of the day's proceedings, both Congress and Akali MLAs were demanding a probe into the illicit drug trade in Punjab. As Congress MLAs, including Kuljit Nagra and Sukhpal Singh Bhullar, called the Akalis "chitte de vapari", an enraged Sukhbir said, "Now the police is yours. I challenge you to get an investigation done."
Sidhu targeted SAD on two occasions that led to uproarious scenes in the House. During the Zero Hour, the duel between the two sides began when Akali MLA Pawan Kumar Tinu raised a question on the sewerage treatment plant in his constituency. Sidhu said: "I will answer the question raised even by a member like him." Tinu accompanied by his party MLAs immediately got to their feet and went to the well of the House, urging the Speaker to ask Sidhu to apologise.
Sukhbir was seen urging Leader of Opposition HS Phoolka to join them, which Phoolka declined after Sidhu called out to Phoolka, "You don't sell chitta… why are you going with them?"
The SAD-BJP MLAs then staged a walkout. Later, outside the House, Sidhu denied having used casteist slur, while Tinu accused the Speaker of being biased. Sukhbir, while talking to the media, threatened to take the matter before the National SC Commission.
Another controversy was raised by Sidhu when he was doing some actions using his hands even as Sangrur MLA Vijay Inder Singla spoke about debt relief for farmers. Majithia then told the Speaker that Sidhu probably felt like dancing and the Speaker should allow him. To this, Sidhu was quick to retort, "I was just acting as if you had been suspended upside down, to see how much sand would fall (referring to the sand mafia allegedly supported by Akalis).
Probe mining charge, Speaker dares AAP
Chandigarh: Vidhan Sabha Speaker Rana KP Singh on Wednesday dared leaders of the Aam Aadmi Party (AAP) and the Lok Insaf Party to prove allegations of illegal mining against him and his son-in-law. AAP Chief Whip Sukhpal Khaira and Lok Insaf Party MLA Simarjit Singh Bains alleged they have been suspended from the Assembly as they were set to raise the issue of illegal sand mining by the family of the Speaker. Daring the CM to release the list of leaders linked to the mining mafia, the two leaders brought out a three-year-old FIR against Dr Dhruv Singh Kanwar and his company GM Constructions for illegal mining. Rana said his son-in-law was a victim of political vendetta by the Akalis when they were in power. Although he did want to join issue with the duo as the matter was sub judice, yet he wanted to clarify the distortions and falsehoods being spread out for obvious reasons. TNS
Guilty in food scam will not be spared: Govt
Chandigarh: The Rs 10-crore food scam, wherein even literates were shown giving thumb impressions while availing subsidised wheat, echoed in the state Assembly, when Congress party's own MLA Barindermeet Singh Pahra sought a statement from the Chief Minister, who also holds the charge of the department concerned, on the issue. Speaking on behalf of Chief Minister Capt Amarinder Singh on a call attention notice raised by Pahara, who is Congress MLA from Gurdaspur, Health Minister Brahm Mohindra assured that he would not spare anyone involved in the distribution scam of subsidised wheat under the Atta-Dal scheme in Amritsar district. Mohindra told the House that disciplinary proceedings had already been initiated against all 22 officials found guilty of misappropriation so far. A recent inquiry has revealed that staffers of the Department of Food and Civil Supplies would fictitiously show Atta-Dal beneficiaries giving thumb impressions on distribution registers even in those villages where literacy rate is around 85 per cent. TNS