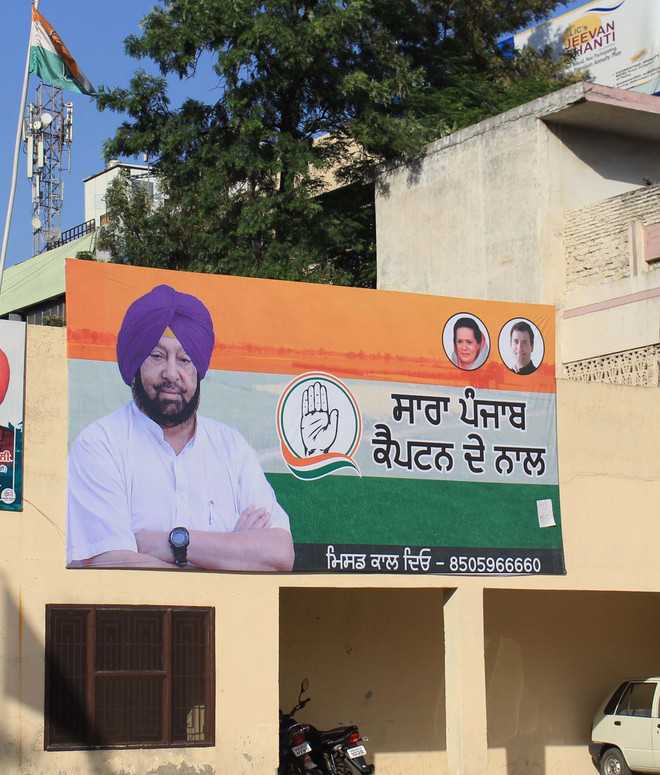 Deepkamal Kaur
Tribune News Service
Jalandhar, May 4
After the Congress putting up signage all across Punjab reading "Sara Punjab Captain de naal" and a new song on the same theme played by the party during a recent rally, AAP leaders have begun saying that the ruling party had stolen their slogan used ahead of 2017 polls.
The AAP leaders have said their slogan used all across Punjab then was "Kejriwal-Kejriwal sara Punjab tere naal", which the Congress has copied now. AAP MLA and Bathinda Lok Sabha candidate Baljinder Kaur has alleged, "The Congress slogan and song is a ditto copy that our party has been using and this shows that they do not have any originality of ideas."
She said, "The Congress has copied almost every idea that we initially mooted for the aam aadmi, including putting an end of VIP culture and stopping use of red lights. Let them copy and use, things will be before them soon." Even AAP Doaba chief and candidate from Hoshiarpur Dr Ravjot Singh has said, "It is not a good practice for a party to copy another party's slogan that, too, especially when it has been widely used." The new song that the Congress has started playing in rallies goes like this, "Hun har paase bulian haase, Punjab pher khushaal, sara Punjab Captain de naal (meaning now everywhere there are smiles and laughter and Punjab is once again prosperous, entire Punjab is with Captain)".
Top Stories