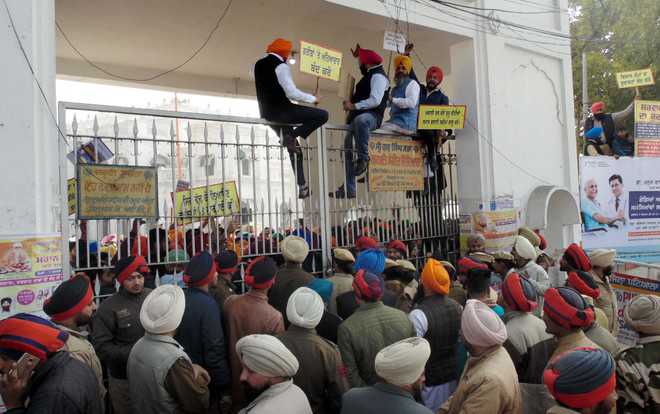 Gagan K Teja
Tribune News Service
Patiala, January 15
The police locked the gates of the Gurdwara Singh Sabha here today to detain SAD leaders and workers, who had gathered to take out a march and hold a dharna outside New Moti Bagh Palace, the residence of Chief Minister Capt Amarinder Singh. The protesters were seeking the registration of a case against Congress leader Harinderpal Singh alias Harry Mann for allegedly inciting party workers to hack their SAD-BJP rivals.
On a call given by Harinderpal Singh Chandumajra, Akali MLA from Sanour, about 500 SAD workers gathered at the gurdwara around 11 am. However, the police locked them up, following which they raised anti-government slogans on the premises.
The police opened the gates about one-and-a-half hours later and the protesters were allowed to march till the polo ground, about 500 metres from New Moti Bagh Palace, under tight security.
Addressing the gathering, Akali MP Prem Singh Chandumajra said party president Sukhbir Singh Badal had shot off letters to Capt Amarinder and DGP Suresh Arora, demanding that Mann be booked. If the police fail to do it in 48 hours, we will approach the Punjab and Haryana High Court, he added.
Meanwhile, former minister Surjit Singh Rakhra and SAD district unit president Harpal Juneja managed to reach near the CM's house, where they held a protest.
Addressing a rally at Devigarh recently, Mann had said, "Dhakka na hon diyo, ona to dabb na jayo. Vadh ke mere kol aa jayo, tuhanu ungal nahi lagan denda (Don't let them browbeat you. Hack them and come to me. I will shield you)." Mann, who unsuccessfully contested from Sanour Assembly seat last year, had later clarified that he had asked Congress supporters to use swords in self-defence against SAD-BJP workers who had been suppressing them over the past decade.
Five to offer heads to Rahul Gandhi
Akali MP Prem Singh Chandumajra announced that five party leaders — Jarnail Singh Said Kheri, Bakshish Singh Sunyarheri, Harnek Singh Ghagga, Balwinder Kaur Cheema and Naranjan Singh – would offer their heads to Congress president Rahul Gandhi to express resentment over Harry Mann's "inflammatory" statement.
Chandumajra said, "We will ask Rahul Gandhi whether he had given Congress leaders the go-ahead to use swords against their rivals and lop off their heads. It's the duty of senior party leaders, including the CM, to maintain peace and order in the state. Leaders such as Mann should be immediately taken to task."
Top Stories