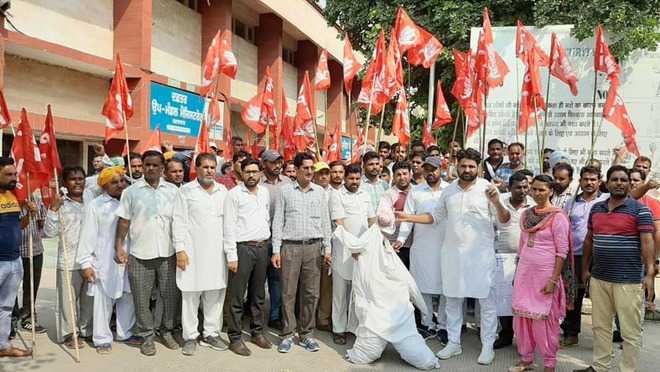 Our Correspondent
Fazilka, October 3
The Communist Party of India (CPI) has started an indefinite dharna in poll-bound Jalalabad segment today to protest "inaction" against the sand mafia by the Punjab Government. Five activists of the party sat on dharna in the SDM court complex.
Earlier, over 100 activists burnt the effigy of Chief Minister Capt Amarinder Singh allegedly for not taking action against the sand mafia operating in Fazilka district.
Fazilka CPI general secretary Hans Raj Golden, deputy secretary Surinder Singh Dhandian and Sarv Bharat Nauzwan Sabha Punjab president Parmjit Singh Dhaban alleged that after conducting a raid by Fazilka MLA Davinder Singh Ghubaya on a quarry in Lamochar Kalan village in Jalalabad subdivision last month, the police registered an FIR against unidentified persons.
They alleged that the names of the contractors were not mentioned in the FIR which proved the nexus between the sand mafia and the officers concerned.
They alleged that the sand mafia, in connivance with the officials, had been minting crores from the black trade of white sand and residents have to pay exorbitant price for sand.
They alleged that the process of illegal excavation of sand at different places in the district was being carried out with impunity despite the implementation of the model code of conduct in the wake of the Jalalabad Assembly byelections.
They appealed to the Election Commission to come forward and take necessary action against the accused.