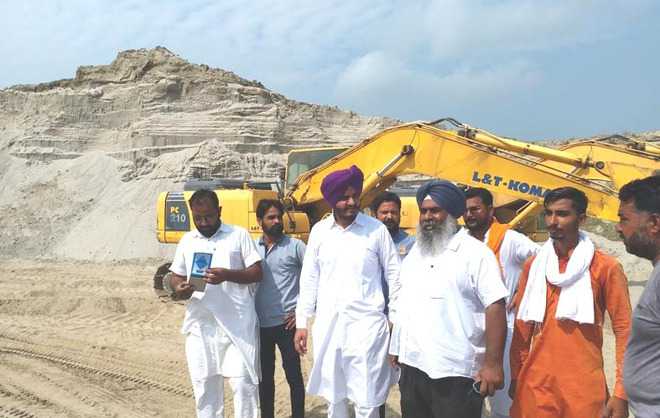 Our Correspondent
Fazilka, August 26
Fazilka MLA Davinder Singh Ghubaya on Monday conducted a surprise check at a sand quarry in Lamochar Kalan village of the district and found mining violations.
Ghubaya, along with his supporters, visited the site and found that the quarry was being dug up to 60-70 feet against the stipulated depth of 10 feet. "The contractors have dug up 60-70-ft-deep quarry and excavated sand by violating the government rules," Ghubaya said while talking to The Tribune.
He said a large number of villagers had complained him about the illegal trade of white sand following which he visited the quarry. "The contractors have been minting huge money in connivance with the government officials concerned," Ghubaya alleged.
Meanwhile, tractor-trailer drivers present on the spot alleged that the contractors had been charging Rs 16.5 per square feet against the government price of Rs 9 per square feet from the buyers.
Bringing the matter into the notice of Fazilka Deputy Commissioner, the MLA demanded to stop the illegal excavation of sand. Ghubaya said the DC had assured him to do the needful.
In the meantime, Sandeep Kamboj, SDO, Mining, Jalalabad, along with a police team rushed to the site and registered an FIR against unidentified persons under Section 379 of the IPC and the Mining and Mineral Act.
When contacted, Executive Engineer, Mining, Fazilka Division, Hakam Singh said he had joined the office 10 days ago and was yet to take stock of the situation in the area.
Top News
The Khalistan sympathiser said if the state government had t...
'Let us not be selective,' Solicitor General said while insi...
Counting of votes will take place on May 13
Deplores attempts by Rahul Gandhi to draw parallels between ...
Petitioner sought more time from the court for producing evi...