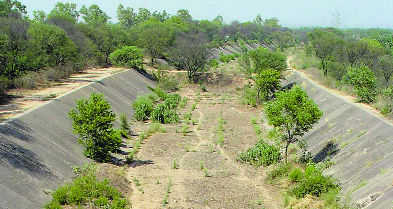 Manmeet Singh Gill
Tribune News Service
Amritsar, June 19
The collapse of canal irrigation system in most parts of Amritsar and Tarn Taran districts has increased the dependence of farmers on groundwater (tubewells).
As no water was released in many areas for years, the land under redundant canal minors (suwas) and irrigation channels (khaals) has been occupied by farmers and brought under cultivation.
The canal system in villages near Neshta, Daoke, Naushera, Kakkar, Kasel and many other areas has totally collapsed. At most of these places, land under canal minors has been brought under cultivation. In other areas, the water holding capacity of channels has withered due to the lack of maintenance and the volume of water released is very low.
On the other hand, farmers blame the government for the collapse of irrigation system as it allegedly stopped paying attention towards biannual maintenance exercise. Rattan Singh Randhawa of Jamhoori Kisan Sabha said, "The collapse of the canal irrigation system has increased the dependency of farmers on tubewells. If the government makes water available for irrigation, why would farmers spend lakhs on digging tubewells?"
The number of tubewells in Punjab has increased from just 2,80,000 in 1980-81 to 13,66,160 in 2017-18. The figure has now touched 14.5 lakh. This has taken toll on already depleting groundwater. The farmers claimed that the canal system initiated by the British continued to work well till 1980s after which it started deteriorating.
The farmers allege that instead of strengthening the system and digging more canal minors to connect more villages, the government let it collapse.
Chief Engineer-cum-Director, Irrigation and Power Research Institute Jasbir Singh Sandhu said the process to reclaim land belonging to the Irrigation Department had been started. "We are demarcating the land and the system will be revived."
He said a proposal for overhauling the canal irrigation system had already been sent to the Union government. Sandhu said they had cleaned many minors under MGNREGA which were lying unused for many years.