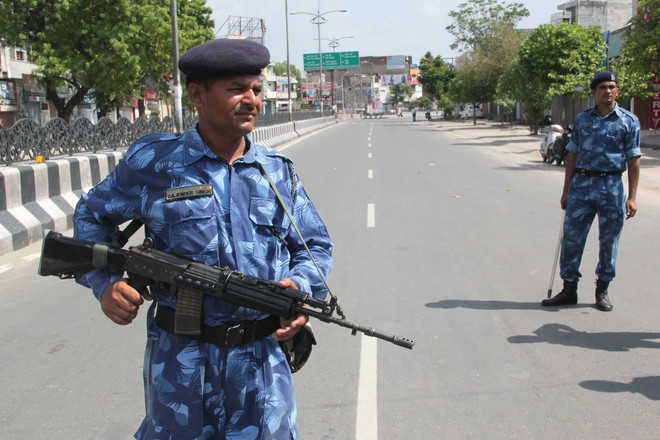 Gagandeep Sharma
Tribune News Service
Bathinda, August 28
Curfew was re-imposed in Bathinda, Mansa and Faridkot districts at 2 pm today. In Bathinda, however, curfew was relaxed between 7 pm and 10 pm. The district administration will review the situation and decide whether or not curfew should remain enforced.
The police and security forces, meanwhile, carried out flag marches in several districts of Malwa after the CBI Special Court announced 20 years' imprisonment for the Dera Sacha Sauda chief. No incident of violence was reported in Bathinda, Muktsar, Mansa, Faridkot and Barnala districts.
Sources in the police said dera followers in the five districts had gone into hiding after the police had booked them.
Additional Director General of Police (ADGP) HS Sidhu remained in Bathinda throughout the day. Senior Superintendent of Police Naveen Singla said 11 companies of the paramilitary forces had been deployed in Bathinda district.
The Barnala police have arrested a man on the charge of violating Section 144. He has been sent to judicial custody.
Muktsar/Fazilka: Curfew was imposed today in Assembly constituency, and re-imposed in Malout and Abohar. A curfew-like situation prevailed in Muktsar as the police stopped commuters from moving on roads.
The Malout police, meanwhile, seized 34 petrol bombs, sharp-edged weapons and chilli powder from five bags lying abandoned near a marriage palace on the Fazilka-Delhi National Highway.
The damages to public property in Muktsar district during the violence on August 25 have been pegged at Rs10.41 lakh and that to private property at Rs14 lakh.
In Fazilka, the police reportedly forced shopkeepers to shut their shops. But on the intervention of Beopar Mandal president Ashok Gulbadhar, shops remained open till 1.30 pm.
Dampener on festivities
Abohar: With the town under curfew again, the Ganesh Chaturthi celebrations has been cut short. Devotees assembled at Gandhi Grounds here on Monday and performed aarti. At 11.30 am, an announcement was made from police vans that an indefinite curfew would be imposed at 2 pm. To avoid any trouble, devotees collected their belongings and returned before afternoon. — OC
Top News
It was a follow-up of the seizure of 13 kg heroine
The speeding truck broadsides a Lucknow depot bus
This is the sixth arrest in the case by the ED