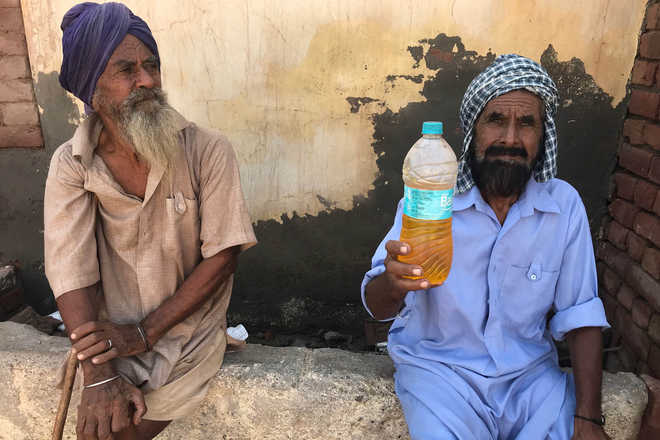 Karam Prakash
Tribune News Service
Patiala, August 21
For 150 residents of Salempur Sekha Dera in Ghanaur block of Patiala district, fetching drinking water is an arduous task. In the absence of water connections and due to contaminated groundwater, they have to travel kilometres ( to a nearby village) daily to ensure safe drinking water for their families.
To meet other household works, they have installed a submersible pump. However, the underground water is said to be contaminated due to "seepage form a nearby distillery".
Mal Singh, 60, a Dera dweller, said, "The bottles turn yellow after sometimes due to poor quality of water. In the mornings, we have to go to Murandpur to fetch drinking water." Jaswinder Kaur said, "Last year, my brother-in-law died of cancer. We are facing health issues due to the intake of polluted water."
Bhajan Singh, a resident, said, "In the run-up to the 2017 polls, Madan Lal Jalalpur, now the sitting MLA from Ghanaur, has promised us to provide water connections, but the ordeal continues." Ghanaur MLA Madan Lal Jalalpur said, "I am aware of the problem. I will ask the XEN to expedite the process of providing them water connections."
ADC Poonamdeep Kaur said, "Though water connections are not given to the deras, it will be covered under NABARD."