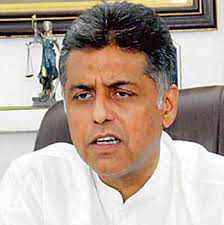 Ludhiana, October 19
Commenting on the resignation of Rajya Sabha member Sukhdev Singh Dhindsa as leader of the Shiromani Akali Dal in the House, Congress national spokesperson and Anandpur Sahib MP Manish Tewari said a split in the SAD was coming to the fore.
"He is a very senior leader and giving resignation two days ahead of the byelection is a signal that people should not vote for the Akali Dal," Tewari said. He was in Ludhiana on his way to Dakha to campaign in favour of Congress candidate Capt Sandeep Singh Sandhu. He said the Akali Dal resorts to unfair means during elections.
He also demanded Bharat Ratna for Shaheed Bhagat Singh, Sukhdev, Rajguru and Udham Singh. He said the Government of India should officially declare Bhagat Singh as Shaheed-e-Azam (the greatest martyr). Responding to questions about the possible outcome of elections in Maharashtra, Haryana and four byelections in Punjab, Tewari said the Congress was performing well at all places. — TNS
Top Stories