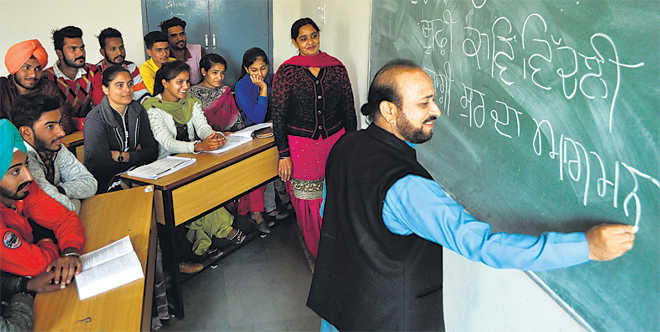 Sanjeev Singh Bariana
Tribune News Service
Chandigarh, November 24
If fewer and fewer students are opting for Punjabi in schools, can the situation be any better in Punjab's colleges and universities? No surprises here. Not only is the percentage of students studying Punjabi literature for graduate or post-graduate degrees down by nearly half in the past decade, hiring of regular teachers for the subject in colleges has been practically nil over the past 15 years.
Also read:
Saving Punjabi-I: Signs of Punjabi dropping off blackboards too
Just as in schools, Punjabi is a mandatory subject in undergraduate classes of Punjabi University (Patiala) and Guru Nanak Dev University (GNDU, Amritsar) in one or more semesters. Panjab University (PU, Chandigarh) gives the option of Punjabi or 'Punjab history and culture'. But the key to literature is Punjabi 'elective', which is losing out rapidly.

Punjabi University-affiliated colleges had approximately 13,725 students opting for Punjabi elective in 2007 for undergraduate studies. The figure today stands at 12,500. GNDU is down from 12,425 to 12,000; and PU from 14,000 to 13,035.
(Follow The Tribune on Facebook; and Twitter @thetribunechd)
These figures may suggest that the drop in students is small, but that is deceptive. That is because the percentage of students out of the total taking up Punjabi elective takes a drastic hit when we take into account the fact that colleges under PU increased from 182 in 2007 to 196 today; while those under Punjabi University increased from 110 to 278. And what makes it a shockingly low percentage is the horde of private universities that have come up in the past decade, almost none of which offer Punjabi literature. While no compilation of the total number of students is readily available, it can be safely assumed that it has nearly doubled in the past decade, while those studying Punjabi has not increased; rather, it has gone down. As Punjabi University Vice-Chancellor BS Ghumman admits, the number of students of Punjabi is definitely not in keeping with the increase in the total.
Money matters
The reason for private colleges and universities not offering Punjabi elective is simple — students are looking only for courses that can possibly provide them jobs. And as we see, currently even the job of a Punjabi teacher is not available.
Chancellor of Chandigarh University Satnam Singh Sandhu says, "There are no takers for Punjabi, so none of the private universities offer any course in the language. We did hire two teachers at one point, but had to pull out as we got only two students."
Dr Yograj Angrish, Head of the Punjabi Department at PU, points to a sad reality, "Barring a miniscule fraction, bright students just don't want Punjabi as their first option. Prof Nahar Singh of our department and I conducted a study to find the reasons, and found that the new universities and colleges are drawing a significant share of students with their professional courses."
He recalls that his department could not find a suitable candidate for the post of professor despite two attempts in the recent past, which speaks of the quality of faculty available.
Govt abdication
Chairperson of the Punjab Educationists Forum, Tarsem Bahia, says, "The last time the state hired a batch of regular Punjabi teachers (229) was in 1987-88. As a result, today there are only 1,200 regular teachers in all of the state's universities and colleges against the sanctioned strength of 5,000. In the 46 government colleges, there are only 49 regular Punjabi teachers against 251 posts. Majority of the teaching work is being handled by temporary or part-time faculty, who are paid a pittance — between Rs 12,000 and Rs 15,000. That leaves no incentive for teachers."
For the past several years, GNDU has not added a single faculty member to its strength of three, to teach a total of 300 students.
Chairperson Dr Raminder Kaur says, "We are using the services of research fellows to hold classes." The university had 28 teachers in 1985. PU in Chandigarh has only two regular faculty members, against eight posts.
Prof NK Gosain, former Bathinda district president of the Punjab and Chandigarh College Teachers Union, says the last regular Punjabi teacher of Government Rajindra College, Bathinda, retired on September 31, 2009. There are nine sanctioned posts, all of which are vacant today. More than half the seats for Punjabi students in the PU Regional Centre, Muktsar, are also vacant.
A lament
Gurbhajan Gill, former president of the Punjabi Sahit Akademi, notes the effect of this lack of interest: "The first casualty for our language is the choice of words, such as saajra savera (morning), paraga (payment in barter), thor (cactus), tarkalan (evening), deeva (earthen light), jhagga (shirt) and istri (iron). Many more will disappear if efforts are not made to preserve our glorious tradition of narration."
Surjit Patar, writer and Chairman of the Punjab Arts Council, has the last word: "Punjabi, which is the 10th most spoken language in the world, is being shunned by a significant proportion of our youth. It is embarrassing to see how even elders are reluctant to use their mother tongue. As I have said earlier too, Mar rahi hai meri bhasha shabd shabd, vak vak."
---
Languages Dept headed for wipeout
Set up with an ambitious plan for promoting Punjabi, Hindi and Urdu literature in 1956, the Languages Department based in Patiala is headed for a complete closure, as 105 out of its total 135 posts have already gone vacant, with no fresh recruitments planned.
It has brought out no publication worth the name in several years, and mandated activities such as book exhibitions, seminars, poetic symposia, literary contests, or awards for books have not been heard of in a long time.
There are currently only five 'district language officers' against 15 posts. At least 140 manuscripts are lying edited, but unpublished.
Tomorrow: Punjabi and contemporary literature
Top News
Ethics Committee of Lok Sabha had recommended Moitra's expul...
TMC leader alleges parliamentary panel is being weaponised b...
The observers will visit the states and give inputs to BJP p...
The firing incident of December 3 was caught in a CCTV camer...
Medical College police include the shocking details in their...