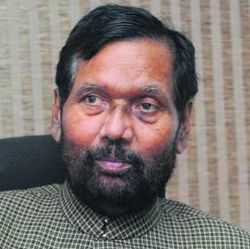 Vishav Bharti
Tribune News Service
Chandigarh, February 28
The Union Minister for Consumer Affairs, Food and Public Distribution has asked Punjab to do away with the arhtiya system and ensure direct payment to farmers for crops procured under the minimum support price (MSP).
Every year, arhtiyas make Rs 1,500 crore as they are paid 2.5 per cent of the value of the total procurement by agencies for crops such as wheat, paddy, cotton and sunflower.
In a strongly-worded letter to Chief Minister Capt Amarinder Singh, Minister Ram Vilas Paswan pointed out that Punjab continues to make payment to the farmers through arhtiyas despite assurances given by the CM.
"I discussed this issue with you on October 4, 2018, and you agreed to the need to put in place a system for transferring the MSP amount directly into the bank accounts of farmers," the letter reads.
It also says most states have shifted to online procurement to plug deficiencies and to ensure online payment to farmers, but farmers in Punjab seem to have been left at the mercy of the arhtiyas, who make payment via cheque and in cash, maintaining no record or receipt.
Dr Sukhpal Singh of PAU, Ludhiana, who has carried out a study on arhtiyas, observes: "Under the system, a farmer is not free to take loan from an institution of his choice. Even for inputs, he is dependent on the arhtiya — his payment mode for the yield."
Punjab has 47,000 registered arhtiyas. Well-organised and wielding political clout, many raise funds for politicians. The government has not waived the Rs 17,000 crore debt farmers owe to arhtiyas.
ARHTIYAS GAIN AT FARMERS' COST
In 1961, commission rate for arhtiyas was 1.5%, which was hiked to 2% in 1990 and to 2.5% in 1998
Various studies have concluded that farmers owe more than 20% of the debt to non-institutional sources
They say farmers take loans from arhtiyas and traders on an annual interest ranging between 15% and 28%
Top News
In Mizoram, Zoram People's Movement is locked in close race ...
According to Defence Ministry, 98 per cent of the total proc...
India has constituted a probe team to investigate allegation...
Nikhil Gupta, 52, has been charged with murder-for-hire in c...
GDP growth in the first quarter of current fiscal — April-Ju...